Jon Deyoung, MHA '19, is the Assistant Director of Health Equity at Cone Health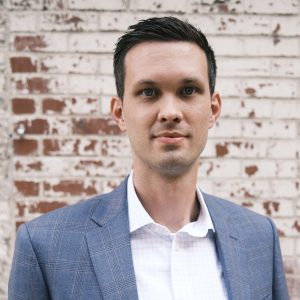 Jon DeYoung was a CPA spending his days auditing financial statements. He had recently graduated from Trinity Christian College in suburban Chicago. This work wasn't an ideal lifetime choice, he confessed to himself.
On weekends, however, DeYoung volunteered at a community garden on the South Side of Chicago where residents and their children learned to raise their own food and expanded their cooking skills. "It was a neighborhood that a lot of people wouldn't even drive through," he says.
"The experience was transformative for me. I realized the biases we all carry around about people whose lives we don't understand."
DeYoung thought back to his college research project on the Affordable Care Act and the first time he was exposed to the term "health equity". He considered how his volunteering on weekends made him feel: passionate and committed to something bigger. He wondered, why not explore how his experience in business and finance could contribute to a new career in healthcare? Around the same time, DeYoung met the CEO of a community health center in Chicago. On that man's advice, DeYoung applied to the MHA residential program at the University of Minnesota and was accepted in 2017.
DeYoung was impressed by the "Minnesota Way" — what grads called the "secret sauce" of problem-solving: "I liked the rigor and the series of steps that were time-tested," he says. "Teaching this approach sets our program apart from others." Another important influence was DeYoung's participation in the Phillips Neighborhood Clinic, a free service staffed by University of Minnesota students training to be healthcare professionals. DeYoung served as a community health worker meeting with patients, learning about their needs, and offering resources and referrals.
Fast forward four years. DeYoung is now assistant director of health equity access and engagement for Cone Health, a nonprofit healthcare network with more than 100 locations covering a five-county area in North Carolina.
This is a huge career leap from fiscal audits. "I am the first person to hold this new position and I report to our chief health equity officer," DeYoung says. "I'm writing my own job description and it's one of the most challenging things I've ever done — like building a plane while you're flying it. Our CEO has encouraged me to commit to something big and he believes I'll grow into it."
That "something big" is confronting healthcare disparities and working with colleagues to propose ways to bring Cone Health to the next level of care equity. "Our CEO has said that we really have two pandemics in America: COVID and a racism pandemic," DeYoung says. "We're exploring opportunities to increase access to care, especially among our lower-income citizens in underserved areas. We'll be creating community partnerships because this is a collective challenge and the solutions will have to come from a wide variety of stakeholders, not just us alone."
DeYoung vividly remembers a framed letter in his CEO's office. It was written in 1846 to Herman Cone by his brother-in-law when Herman, just 17, left Germany to seek his fortune in America. The young man founded Cone Mills in Greensboro, a company that ultimately provided the wealth to create Cone Memorial Hospital in 1953. Ten years later, this became the first integrated hospital in Greensboro, one year before passage of the Civil Rights Act of 1964.
DeYoung says he was inspired by one section of the letter:
"…be particularly liberal toward the poor," Cone's brother-in-law wrote, "…and charitable to the needy. Be glad to help…give assistance to the distressed…do not let anyone call you a miser, but be known as a philanthropist."