Vivian Anugwom, MHA '22, is the System Director for Health Equity at Allina Health in Minneapolis where she develops and oversees execution of their health equity system strategy. She develops the infrastructure needed to support leaders, employees, and front-line staff in delivering inclusive care.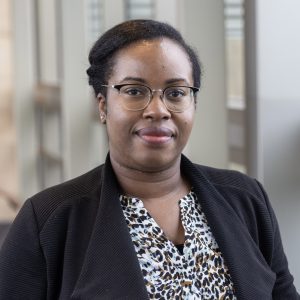 What issue in your work do you care about most and how are you addressing it?
I care most about ensuring that our health system delivers care that is inclusive and responsive to the sociocultural needs of our patients. Healthcare must shift from the mindset of viewing cultural preferences as "barriers" and start viewing them as critical aspects to integrate into how we maintain and improve health as defined by the individual.
Why did you choose the University of Minnesota MHA Executive program?
I have worked with many alums of the program over the past several years and was impressed with their leadership skills and ability to solve complex healthcare problems. I also noticed that there are very few women of color in healthcare leadership positions. I applied for the MHA executive program when I made the personal commitment to expand my healthcare leadership skills as well as help other women of color discover their passion for healthcare leadership. My path to healthcare leadership was not straightforward but I am so grateful to the alumni of the University of Minnesota MHA program that guided my decision to apply for the program. I hope to pay it forward by illuminating the path to healthcare leadership for other women of color.
How do you balance work and school?
Navigating work, school, and family life with a toddler during a pandemic has not been easy. I have learned to listen to my body and communicate my needs better than ever before. That being said, my husband and family have been incredibly supportive throughout this journey. My leader and colleagues are also very supportive in helping me balance competing work and school demands. Finally, my cohort mates are incredible! It has been amazing to go through this journey with them as we support each other through significant life events and work deadlines and schedules that happen to coincide with coursework deadlines.
What type of career do you anticipate with your MHA degree?
I anticipate continuing my career in healthcare leadership. I envision myself continuing to focus on building the foundation needed to advance health equity over the coming years. I look forward to helping to lead healthcare delivery transformation. Healthcare is evolving at such a fast pace that it is difficult to pinpoint an exact role in the future. However, I am certain that wherever this journey takes me, I want to continue to advance and evolve our thinking about healthcare's role in creating health equity for our patients, employees, and communities.