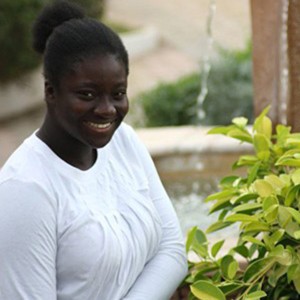 Class of 2016 graduate Love Odetola received the 2016 President's Student Leadership and Service Award from the University of Minnesota for her leadership and philanthropic work on-campus, in Minnesota, and internationally.
On-campus, Odetola's contributions include co-chairing the Global Health Student Advisory Board and serving as a student representative to the Board of Regents.
Away from the University, Odetola worked with organizations like Isuroon, a Minnesota-based organization dedicated to promoting the health and well-being of Somali women. She also founded and directs Women for Women Empowerment, an organization that helps female high school dropouts in Senegal break the poverty cycle through occupational training and life-skills education. As a student, Odetola received the Vincent L. Hawkinson Foundation Scholarship for her work in Senegal.
"I have been given so much in my life," says Odetola. "Staying engaged as a servant and leader is my way of giving back."