Picture a fall social mixer on a university campus and you may imagine students and faculty gathered over mugs of hot cider, chatting about upcoming football games, and checking in on how the new semester is going.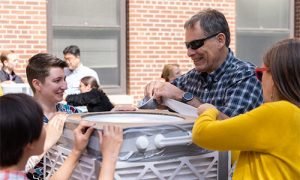 The Fall Environmental Health Science (EnHS) Mixer held in September in the courtyard of the Mayo Building was a little bit different. The event, which was sponsored by the Midwest Center for Occupational Health and Safety (MCOHS), might have featured conversations about how the Gophers are doing, but it also featured EnHS faculty, staff, and students building inexpensive, but practical air filters out of furnace filters, box fans, and, duct tape to distribute to community members at no cost.
Called Corsi-Rosenthal boxes, these simple and inexpensive air cleaners— each one costs around $75 — are useful for lowering the levels of infectious particles in the air that can transmit cold, flu and COVID-19 viruses, and can reduce the levels of other harmful particles in the air.
Susan Arnold, the SPH associate professor and MCOHS Director who helped organize the event, noted the effectiveness of Corsi-Rosenthal boxes. "The Corsi-Rosenthal box design has been evaluated for performance and the results have been published in several peer-reviewed journals," Arnold says. "They are also effective in removing the particles that are generated by fires, including the wildfire smoke so many people here were impacted by this past summer."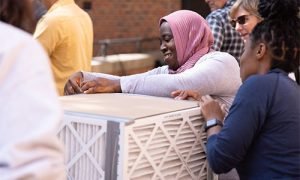 In addition to serving as a team-building activity, the seven air cleaners constructed by the EnHS teams will be part of a community engagement effort with Minneapolis residents. SPH will donate the Corsi-Rosenthal boxes to the East Phillips Neighborhood Institute, who will then distribute them to residents.
"We decided to build and donate the Corsi-Rosenthal boxes because they reflect so many aspects of what our Division and our Midwest Center for Occupational Health and Safety represent," Arnold notes. "By applying our expertise and aerosol science principles, we were able to construct these DIY, HEPA filter units. Donating them to our neighbors to improve their indoor air quality speaks to our commitment to health equity and to improving the health of all people. Constructing these boxes by bringing interdisciplinary teams together underscores the foundation on which our Division and Center operates," Arnold concluded.
When used for a few hours per day, the Corsi-Rosenthal boxes will typically last about 5-6 months. Plans to have a followup event in the spring to replace the used boxes with new ones are in early development.