A team of School of Public Health Division of Health Policy and Management students was named first runner-up in the National Association of Health Services Executives (NAHSE) virtual case competition sponsored by CommonSpirit. Alina Okamoto (MHA), Malik Williams (PHAP), and Moriam Yarrow (MHA) competed against 37 CAHME-accredited graduate programs in health administration, business administration, and public health.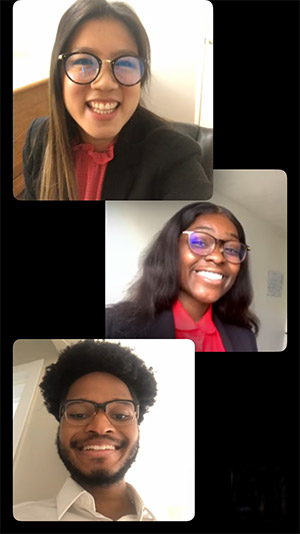 Teams in the competition were tasked to build a digital strategy to open up a service line around a chronic disease that not only focused on recovering the lost revenue but also one that was scalable and took into account community partnerships as well as government and advocacy groups.
The Minnesota team came up with "HealthYOU: a digital value-based population strategy for chronic care management."
The strategy contained three crucial components: a "FHIR" electronic health record data activation platform, a digital telehealth care coordination platform, and coalition formation. The team used architectural innovation to leverage internal and external assets already provided and restructured it around treating hypertensive patients in the Houston, TX area.
The judges liked the team member's approach and awarded them first runner-up. Each student was awarded a $4,000 scholarship for their tremendous effort.
Thank you to Senior Lecturers Kim Parrish and Justine Mishek who served as coaches as well as other faculty and staff who supported this team throughout the process. Congratulations!