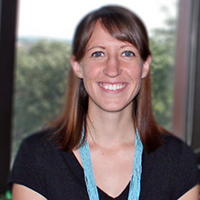 New research from the  School of Public Health finds academic success of African American youth is associated with their access to resources for resilience. African American children who perceive high support from their caregivers and utilize more adaptive coping strategies may perform better academically.
The study appeared in the journal The Urban Review.
The study, led by graduate and predoctoral student, Ashley Chesmore, recruited African American children aged 8-12 years. Principal investigator and Associate Professor Sonya Brady collected the study data on the children's resources for resilience, such as coping skills and perceived support of caregivers. This data was combined with the children's progress reports and recent standardized tests.
"We found that not only those with greater perceived social support had greater academic performance but less school misbehavior as well," says Chesmore. "Social support and coping were associated with academic performance more strongly among boys than among girls. A positive caregiver-child relationship may be especially important for boys' academic performance."
Chesmore first became interested in this research while teaching in New York City, where she became aware of the magnitude of the achievement gap and its effect on African American students.
"Fortunately, I was able to develop strong relationships with my students' families. These relationships became an invaluable resource within the classroom, as parents often served as sources of support for their children," says Chesmore. "This experience led me to become interested in the interconnection between family, education, and mental health, particularly among children who may face adversity (e.g., community violence, poverty)."
Chesmore says future research should continue to explore how children's coping strategies relate to academic outcomes and how caregivers help facilitate this process.
"It may also be beneficial to provide school-based mental health services for children and their families in order to strengthen adaptive coping strategies in the presence of stressors," says Chesmore.