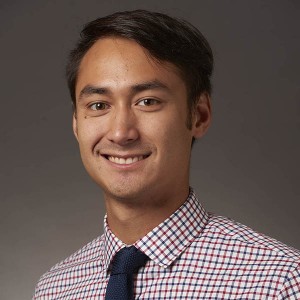 School of Public Health student Jake Maxon became interested in policy while working amongst microscopes and petri dishes in a lab. After getting his neuroscience degree from Brown University in 2013, Maxon researched spinal cord injuries, which involved stem cell research. "Policy around stem cells brought a different kind of challenge to our research and I wanted to know more about how policies are created and implemented."
Shortly after, he enrolled in SPH's Public Health Administration and Policy (PHAP) program and worked with Twin Cities policy organizations, including as a grant reviewer for the Ryan White HIV/AIDS Program, an intern for the Office of Governor Mark Dayton, a research assistant for the Minnesota Department of Health, and a policy intern for Hennepin County.
But he wanted to understand policy on a federal level. So he discovered the White House Internship Program, which places about 150 students from schools across the country in offices in the White House. After a six-month selection and vetting process, he was assigned to work alongside the three-person team in the Office of National AIDS Policy (ONAP) for fall semester 2016.
ONAP was created by President Clinton and functions as an integral part of President Obama's 10-year National HIV/AIDS Strategy to improve health outcomes for people living with HIV, reduce HIV-related disparities, and create an integrated approach to the prevention, care, and treatment of HIV/AIDS.
"We've advanced medical care for HIV/AIDS patients, so many people in our country forget that HIV is still an epidemic and it's still a public health crisis," says Maxon.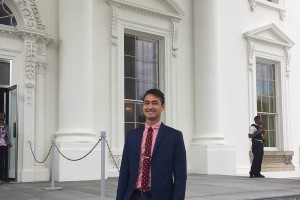 While overall HIV diagnoses in the U.S. have declined nearly 20 percent in the past 10 years, infections have increased among a number of target populations, including black men who have sex with men and transgender women of color. "These are sectors of our population who were the first to be acutely affected in the 1980s and they still unproportionally bear the brunt of the epidemic," says Maxon.
"When HIV and AIDS first hit the U.S., people would throw the ashes of their loved ones who had died of AIDS over the White House fence the get politicians to pay attention to the epidemic. Now, fast forward to today when ONAP invites people with HIV to get their views on living with the virus," Maxon says. "We've come a long way, but still have along way to go from a policy perspective."
While in Washington, D.C., Maxon was able to continue working on his MPH degree thanks to PHAP Program Coordinator Andy Le and Program Director and Associate Professor Becky Wurtz, who not only helped Maxon decide which courses to take, but also helped find funding for him to stay in the nation's capitol. "Without their help, I wouldn't have been able to take advantage of this experience and stay in school," says Maxon, who has a new role as coordinator for Hennepin County's HIV "Positively Hennepin" strategy, which is based off of the National HIV/AIDS Strategy Maxon helped implement while at the White House. "The vision is to create a county where all residents living with HIV/AIDS have healthy, vibrant lives; where there is equitable access to HIV prevention and care; and where there are no new HIV infections."
"The biggest changes can often come from county and state levels, which can succeed no matter who the president is. The unbreakable spirit of people living with HIV and of their allies and advocates will endure."
In July, the Minnesota Daily followed-up with Maxon about his role working for Hennepin County's Positively Hennepin HIV/AIDS strategy.