Brigid Riley (MPH '98) is an organizational coach. After working in local public health and the nonprofit sector, she founded B. E. Riley Consulting in 2011 to support others in moving their important work forward. She was part of the newly regenerated SPH Alumni Board from 2007-2011, and served in leadership roles as President-Elect, President and Past-President. She's also served as a mentor and hosted SPH students as part of Gophers Gathering, our annual student/alumni dinners.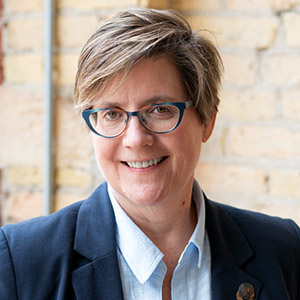 What have you enjoyed about volunteering with SPH?
As part of the SPH Alumni Society Board, I loved learning about all of the avenues that the SPH was exploring to enhance and expand the student experience. At the same time, I appreciated that the SPH was interested gaining an alumni perspective. I was able to meet so many accomplished alumni, and made long-standing friendships. As a mentor and Gophers Gathering host, I've been able to stay in touch with the student experience, and learn from emerging leaders in our field.
Why did you decide to volunteer with SPH?
Giving back is part of my DNA, and I feel a special kinship with SPH, and the larger University community. I received so much beyond a degree from my MPH program, and want to be part of enriching others' experiences here. It's also a way to follow the SPH's adventures and advances, and meet current students who bring fresh ideas and new perspectives to our field.
What advice would you offer to your fellow alums?
Keep learning. Be open to new experiences and new perspectives. Nurture your personal and professional relationships. Stay connected to something bigger than yourself. Spend time with dogs, cats and children – they teach us to be in the here and now.
Nominate an Alum for our Volunteer Spotlight Series
The School of Public Health boasts extraordinary volunteers who help advance our mission and values. Our volunteers serve on boards and committees, mentor current students, serve as guest lecturers, and so much more. Our volunteer spotlight series highlights the incredible contributions these individuals are making to SPH. Know an amazing volunteer at SPH? Submit their name and brief description of why they should be highlighted to sph-alum@umn.edu to be considered for a future spotlight.