Heidi Hayes (MHA '15) currently works for Cotiviti, a health care data analytics company, as a consultant to health plans and health care delivery systems, joining them in their efforts to shift the economics of health care. She volunteered as a case faculty advisor for the MHA Clerkship course for the first time this past summer and has served as a mentor to current MHA students over the past few years.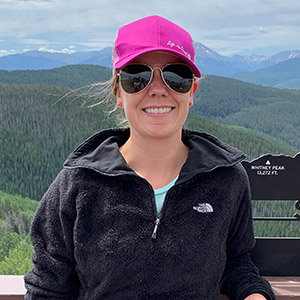 What is your favorite part of volunteering with the MHA Program and its Alumni Association/Foundation (AA/F)?
Without question, my favorite part of volunteering as an MHA alum is as a mentor to current students. I enjoy watching the incredible impact they are making on the industry and the communities they associate with. SPH alumni and students are passionate doers, and I have felt truly lucky to join in on the journey of a few MHA students as a mentor. My mentees have become members of my "Personal Board of Directors" and I draw inspiration from them and seek to improve myself through our dialogue.
Why did you decide to start volunteering?
"Pay it forward" is a mindset and a value that MHA alumni have helped me make my own. There are few promises in our lives (personal, professional, or otherwise), but living with an attitude of plenty has made all the difference for me. While I may not know exactly what I have to offer to a student, faculty member, or fellow alum, I make every effort to say "yes" when I'm asked to volunteer my time and expertise.
What would you tell someone who is thinking about volunteering with the MHA Program and the AA/F?
Volunteer from a place of conviction. If you're not sure how to connect your passion to volunteer opportunities, spend some time identifying the questions that have gone unanswered and the lessons you've learned the hard way in your career. Take those convictions and reframe them into goals for how you'll volunteer your time and talent. I hope this advice is universally helpful, but I especially want fellow recent graduate alumni to know that they have big things to offer to students, the MHA Program, and the MHA Alumni Association/Foundation.
What advice would you offer to your fellow alums?
Consider viewing the time you spend volunteering as an investment in your own professional development. It is an investment in students and in our industry, but it can also be a blue ocean for personal growth. Mentoring has afforded me a space to practice vulnerability and to learn how to strategically incorporate it into my leadership style. I've received invaluable feedback from mentees that I take into other areas of my life.
Nominate an Alum for our Volunteer Spotlight Series
The MHA Program and AA/F boast incredible volunteers who help advance our mission and values. Our volunteers serve on boards and committees, mentor current students, serve as guest lecturers, and so much more. Our volunteer spotlight series highlights the incredible contributions these individuals are making to the MHA community. Know an amazing volunteer with the MHA program or Alumni Association/Foundation? Submit their name and brief description of why they should be highlighted to mhaalum@umn.edu to be considered for a future spotlight.