Lauren Gilchrist (MPH '08) is the Executive Vice President of External Affairs for Planned Parenthood North Central States. Gilchrist has volunteered as a mentor to SPH students and been a guest speaker for various SPH events.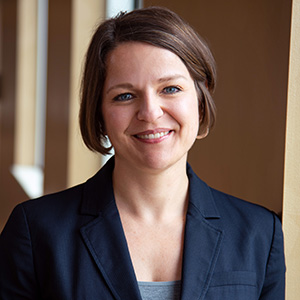 What is your favorite part of volunteering with SPH?
I love staying connected to students and learning how they view public health issues in our current world. Their questions and ideas challenge me to think differently about my own work in public health. I'm always energized by SPH students' optimism and hopefulness for the future.
Why did you decide to volunteer with SPH?
So many people have mentored and advised me throughout my time as a student and on my professional path. For example, many public health professionals who agreed to have coffee with me and brainstorm career ideas 15 years ago are still my colleagues and valued mentors today. I want to make sure I "pay it forward" because these connections have been vital to my career and I want to do what I can to support the next generation of public health leaders.
What would you tell someone who is thinking about volunteering with SPH?
Do it! Students are engaged and excited about how they can best contribute to making the world a better, more equitable place for all. Spending time with them will give you energy and insight.
What advice would you offer to your fellow alums?
As public health professionals, we're uniquely positioned to see the "big picture" factors that underlie some of the most challenging issues in our world today — whether we're talking about climate change or systemic racism or antibiotic resistance. We will be able to maximize our impact if we can help other leaders see the connections between sectors and issues in this increasingly complex and connected world.
Nominate an Alum for our Volunteer Spotlight Series
The School of Public Health boasts extraordinary volunteers who help advance our mission and values. Our volunteers serve on boards and committees, mentor current students, serve as guest lecturers, and so much more. Our volunteer spotlight series highlights the incredible contributions these individuals are making to SPH. Know an amazing volunteer at SPH? Submit their name and brief description of why they should be highlighted to 
sph-alum@umn.edu
 to be considered for a future spotlight.