Conducting Treatment and Clinical Trials for Ebola and HIV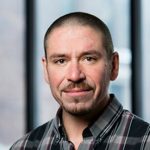 As the Associate Director for the Coordinating Centers for Biometric Research (CCBR), Professor Cavan Reilly of the division of Biostatistics is actively involved with multiple studies related to Ebola Virus Disease (EVD) and HIV in West Africa. His current research is focusing on the survivors of EVD and what happens to people who survive the disease, as well as various aspects of HIV.
Ebola
Following the Ebola outbreaks in West Africa in 2014, the CCBR conducted multiple trials and clinical studies leading up to PREVAIL III, which has the largest cohort of Ebola survivors ever studied, consisting of over 1,100 enrollees. Springboarding from the work of the previous clinical investigations, they began enrolling people for PREVAIL IV, a trial of a new antiviral drug for EVD which has the potential to help male survivors who retain Ebola virus in their semen. Because this part of the body is not well surveyed, this study will also shed light on how people may sexually transmit the Ebola virus. Lastly, there is PREVAIL VI, a genome-wide association study of how an individual's genetics affect the clinical manifestation of Ebola.
HIV
Currently, in collaboration with other researchers at NIH and in Liberia, Reilly is starting to implement a cohort study of about 3,500 participants in a longitudinal study of HIV in West Africa. However, in international HIV research, many problems arise that take time and cultural competency to resolve. For example, Reilly notes that there are some parents who know one of their children has HIV but do not want to disclose this to the affected child. This can present ethical challenges to respecting parents' decisions while abiding by the duty to provide improved access to treatment for their children who are HIV positive through involvement with the study.
Accounting for Culture
Addressing these challenges must be done in a culturally appropriate way. To gain that competency, Reilly advises biostatisticians and epidemiologists in global health to "be patient, be open minded. Be adaptable to situations that will be unexpected. You can never tell what's going to happen…To try and understand what is really going on, you need to see what's going in the clinic itself."
While many questions still persist about how to prevent and provide treatment during the next Ebola outbreak, as well as how to reduce the prevalence of HIV, prevention also starts with understanding the experiences of those who survive and live with infectious diseases.