Outreach
The Families and LTC Project Team are available to speak to your local group about a range of topics related to Alzheimer's disease and dementia. Please see below for some of our upcoming community outreach events!
Materials from Past Virtual Presentations
2023 Caring for People with Memory Loss Conference
June 3th, 2023 | 8:00 AM – 4:30 PM CST | Hybrid format, attend in-person or virtually via Zoom
Join experts in a lively, informative discussion related to memory loss, caregiving tips, and what you can do to help. The goal of this conference is to provide information, support, and education for adult children, spouses, parents, health and community care providers, and others concerned with caring for people with memory loss.
Click here for more information.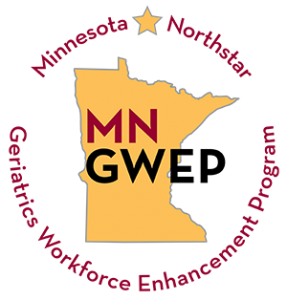 Minnesota NorthStar Geriatrics Workforce Enhancement Program, sponsors Families and Long-Term Care outreach with funding through the Health Resources Services Administration. The Health Resources and Services Administration (HRSA) of the U.S. Department of Health and Human Services (HHS) supports the Minnesota NorthStar Geriatrics Workforce Enhancement Program and this presentation. The contents are those of the author(s) and do not necessarily represent the official views of, nor an endorsement, by HRSA, HHS or the U.S. Government.