Stand & Move at WorkTM is an evidenced-based workplace program designed by Arizona State University and the University of Minnesota to reduce workplace sitting and increase standing and moving. With funding from the National Institutes of Health (NIH), the program was developed as a user-friendly web-based interface that can be used on its own, or be incorporated into current wellness initiatives.
We're inviting workplaces nationwide with sit-stand workstations for at least half of their employees to use this program, free of charge. Selected applicants will identify a workplace champion to use the Stand & Move at WorkTM website and program materials.  Estimated time commitment for champions is 1-2 hours per month over 12-months.
Submit an Application of Interest
If your worksite appears to be eligible and you are interested in being considered to take part in this program offering, please complete the interest form.
If you have questions you'd like answered prior to submitting the completed form, please email, call or text to set up a short meeting: move@asu.edu or 612-437-6126.
We encourage you to submit your interest form as soon as possible. Applications will be reviewed on an on-going basis until all spots are filled.

Upon submission of this form, all individuals listed on the interest form will receive a link to complete a brief survey. We ask that this survey be completed within a week of receiving the link. Once all surveys have been submitted, your application of interest is considered complete.
Frequently Asked Questions
What research questions are you asking?
We want to know the best strategies to implement Stand & Move at WorkTM across different workplaces, and how we can best support worksites to take this evidence-based intervention and adapt it in ways that best fit their worksite.
What does the Stand & Move at Work (TM) program look like?
The program is made up of core and optional strategies that worksites can adopt to reduce sitting and increase light-intensity physical activity. The core strategies are identifying a workplace champion and manager-level communicator to support implementation and sustainability, a comprehensive ergonomic training to ensure healthy seated and standing positions, a program kick-off launch, and strategically-placed signage to encourage behavior change. Our web portal will provide you the tools to implement these activities. The optional strategies are a comprehensive "menu" that we have tested and found to be effective. They include worksite contests, suggested worksite policy changes, stairway activity challenges as a few examples. Our web portal will provide detailed information to help you choose the right strategies for your workplace and give you tools to implement them.
What is a workplace champion? Can there be more than one?
We ask that you identify a workplace champion, who will be the primary point of contact and person in charge of implementing the Stand & Move at WorkTM program. No special skills are required for this position, just a great attitude and desire for a healthier workplace. Our web portal will walk you through the strategies and give you the tools to implement the program. You may choose as many workplace champions as you would like, depending on the size and needs of your organization.
How will our worksite know if this program is effective for us?
We'll collect data on program implementation and employee participation throughout the program. The data will be shared with the workplace champion(s) in aggregated form (so that individual employees cannot identified) to help improve the effectiveness of the program. We will also share the final results of the study, in aggregated form, after its completion.
What is the overall time commitment of the program?
The program itself is to be implemented over a period of 12 months, with an additional year of follow-up. Staff will be asked to complete program surveys, described below, that will take an anticipated 60-90 minutes in total (over the 24-month period). Staff time taking part in programmatic activities is negligible.
How much time do the workplace champion(s) need to devote to the program?
Ideally, program champions would be allocated one to two hours per month for the planning, implementation, and evaluation of programmatic activities.
How much electronic communication is involved?
Concise program communications have been designed to send to staff on a set schedule over the 12-month program period. They will be sent weekly during month 1, every two weeks during months 2-3, and monthly for months 4-12.
How much does the program cost?
This program is currently being funded by the National Institutes of Health, so the only costs are the time your champions spend on the program and staff time filling out surveys (60-90 minutes over 2 years).
What equipment/software is needed?
No special equipment or software is needed. The program materials are provided via a secure, online portal, accessible via any internet browser.
What qualifies as a sit-stand workstation?
A sit-stand workstation is a desktop device or adjustable-height table, which allows users to easily alternate between working from a seated position to a standing position. Sit-stand hacks could be allowed if employees are easily able to transition between sitting and standing positions.
How easy/difficult is Stand & Move at Work (TM) to implement?
Stand & Move at WorkTM has been designed to take users on an intuitive, step-by-step journey via a secure, online portal. All that is required is enthusiasm and dedication to making the program a success.
Is training provided?
Yes, program champions are provided with an early access pass to the online portal to allow them time to complete the necessary orientation and training. Champions will be ready to launch the program after completing the 12 short, online training modules.
What type of ergonomic training is provided?
Ergonomics are key to effective and sustained use of sit-stand workstations. Program champions will complete an online training module, which includes videos, graphics and a step-by-step guide to enable them to assess whether an employee is sitting or standing in an ergonomically appropriate position. All staff will receive this information, too, as part of the early study communications.
What are the surveys/measures that employees will be asked to complete?
All staff will be asked to complete a 15-20 minute survey online at the start of the program, and at the 3-month, 12-month, and 24-month mark. Additionally, some staff will be asked to wear an activity monitor for a week at 5 time points over the 2 years.
How often are program champions surveyed?
Program champions will be asked to complete 20-minute surveys quarterly over the first 12-months, and at the 18- and 24-month mark of the follow-up year.
How is sitting time and standing time measured?
Sitting and standing time will be measured using an activPAL. This activity monitor is embedded with not only pedometer-like software, but also an inclinometer. For this reason, this waterproofed device is affixed to the front of one's thigh, and enables the study to collect time spent standing, walking, and seated. Those wearing the device will also be asked to report their bedtime and wake time so we can exclude sleep from their activity. Wearing the activity monitors will be voluntary; if someone chooses not to participate, an alternate individual will be selected.
How secure are the study data? Who sees the study data? Can employees be identified?
Surveys will be collected using the University of Minnesota's Research Electronic Data Capture (REDCap) system. REDCap is a secure web application designed specifically to support data capture for research studies. Only authorized study staff will be able to access the study data. We will follow federal guidelines to maintain confidentiality of data. All survey responses will be reported in aggregate and no individual employee will be able to be identified.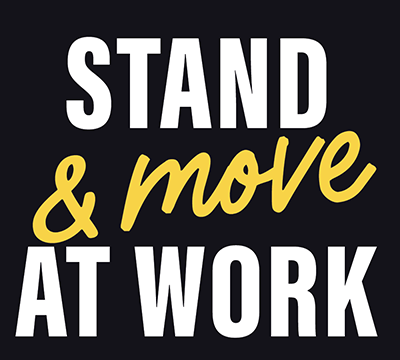 Find Out More Information!
Do you have questions or want more information?
Please reach out to us at: move@asu.edu