Home » Academics » Degrees & Programs » MPH » Community Health Promotion
Building healthier communities. Changing the world.
With an MPH from our program, you will gain the skills needed to translate research into practice by designing community-based program and policy interventions that improve the health of diverse communities.
– CHP Degree Highlights (PDF)
Why Minnesota?
Global: Benefit from our deep international connections. In the past decade, CHP students have completed field experience projects at more than 115 different sites in 15 countries.
Location: Work and learn the large and vibrant Twin Cities, an area that boasts one of the largest number of nonprofit and community-based organizations in the country.
Opportunities: Learn from our diverse community of established and new immigrant populations.
Connections: As a longstanding program, our relationship with our alumni offers rich experiences for students, as does our award-winning mentor program.
Personal attention: Cultivate one-on-one connections with our world-renowned SPH faculty members.
Focus: Design your degree to suit your needs through electives that allow you to explore topics, populations, or skills-building.
The practice-based curriculum prepares you to translate research into community and policy interventions. Courses explore research theory, health behavior and policy interventions, assessment methods, and critical issues related to maintaining healthy communities. The program is a two-year, full-time program that requires 48 credits to complete.
You'll learn how to influence policy and public opinion on health issues, develop community-based programs to prevent disease, work on issues related to a specific population, and advocate for and evaluate efforts to promote healthy behaviors.
Your classroom experience is brought to life through a required field experience. You can work at a national or international organization working on a topic of your choice as a first step to becoming a leader in the community.
Applicants are admitted from a wide variety of academic backgrounds. There is no single appropriate undergraduate major, but you should meet the prerequisites by the time of admission.
Prerequisites
Baccalaureate degree or higher from an accredited college or university
College-level courses in the following areas:

Social and behavioral sciences (at least 3 courses)
Introductory statistics (1 course)
One year of paid or volunteer experience in a public health, social service, or community setting.
Each application is holistically reviewed by the admissions committee composed of faculty members. The process may take up to 6 weeks in peak application season of December/January. All applicants are notified via email and/or letter.
Standardized Test Requirement
This program requires the GRE, but the GRE requirement is waived if applicants have one of the following:
U.S. or Canadian doctoral-level degree
ECFMG Certification
Admission Averages
| | Average score of admitted student | Minimum score |
| --- | --- | --- |
| GPA | 3.58 |  3.0 |
| GRE Combined | 313 |  300 |
| GRE Analytical Writing | 4.6 |  3.5 |
The University of Minnesota offers affordable and competitive graduate tuition while also being situated in one of the most affordable metropolitan areas in the country.
Cost
2016-17 Tuition & Fees
| MPH | Resident | Non-resident |
| --- | --- | --- |
| per credit | $932 | $1,225 |
| Total tuition (48 credits)* | $44,782 | $58,815 |
| Fees ** | $3,300 | $3,300 |
*Based on 2016-17 Tuition rates and subject to change.
**Fees are approximate, charged per semester, and assume enrollment in student health insurance plan. Additional fees apply for international students. See SPH Tuition & Fees for full details.
Funding
See a full list of scholarships available to Public Health students
Other Costs to Consider
Average cost of living in Minneapolis for a one-bedroom apartment is $899
Minnesota offers no tax on clothing
Minnesota students may receive an unlimited bus pass for $100/semester
Free use of the light rail train and shuttles between Twin Cities campuses
Students are emerged in the community through field experiences. Recent Field Experiences include:
Examining data on LGBTQ health disparities for Rainbow Health Initiative;
Assist with the establishment of Farm to School nutrition education programs for Minneapolis Public Schools;
Work with the Uganda Village Project to assess community needs and to lay the groundwork for public health and development interventions needed in that community.
Community Health educators work in a variety of settings, including government, social service agencies, schools, and advocacy organizations.
Go on to a degree that:
Uses theories of behavior and social change to inform the planning and evaluation of health interventions.
Promotes healthy behaviors and social conditions.
Assesses the health status of populations and communities.
Designs and implements effective interventions targeting health behaviors.
Collaborates and manages health programs and services.
Community Health Promotion In-Depth Career Information (PDF)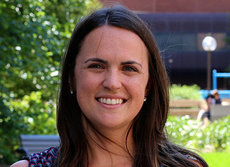 I care about people and want to see lives improved through public health policy and effective and engaging health programs.
–Lauren O'Brien, MPH 2015
Application Deadline
for Fall Admission May 1.
Scholarship Consideration Deadline: December 1
Contact Us
Enrollment and Program Development Manager
Kathryn Schwartz Eckhardt
612-626-8802
schwa139@umn.edu
Program Director