Trainees
Emily Nagel, PhD
Dr. Emily Nagel is a 2nd-year postdoctoral fellow on the Minnesota Obesity Prevention Training (MnOPT) program working with Dr. Ellen Demerath on the MILk study. Additionally, she is conducting a study with Dr. Sara Ramel, a neonatologist at Masonic Children's Hospital to examine the use of ultrasound measurements of muscle to predict neurodevelopmental outcomes in preterm infants.
Dr. Nagel is interested in the associations between maternal stress and lactation/feeding and neurodevelopment in preterm infants (and has her fingers crossed for a good score on the K99/R00 application she recently submitted). She is also interested in the human milk microbiome and metabolome and how they may be altered by maternal stress. In addition to her role as a postdoctoral fellow, Dr. Nagel is a pediatric dietitian at Masonic Children's Hospital and specializes in nutrition support and gastrointestinal diseases.
She continues to utilize her clinical skills to inform her research and aspires to be a clinician researcher once her fellowship is complete. Dr. Nagel is also passionate about increasing diversity, equity, inclusion, and justice in the dietetics profession and co-created a social media community of dietetic practitioners focused on creating change (Dietitians for Change). In her free time, Dr. Nagel enjoys running and cycling around the Twin Cities with her partner, Dave, and her adorable rescue pup, Charlie. If she had to offer a piece of advice, Dr. Nagel would advise new graduate students and postdocs to keep the love of research alive by allowing space for rest and fun.
Megan Winkler, PhD, RN, CPNP-PC
Dr. Megan Winkler was a postdoctoral fellow on the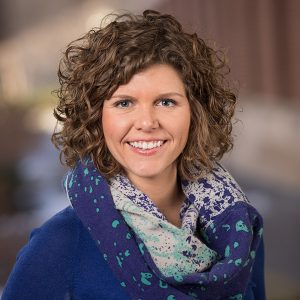 Minnesota Obesity Prevention Training (MnOPT) program from 2016-2019. Building upon her postdoctoral work, she successfully applied for and received a competitive NIH K99/R00 grant to study retail food environments and healthy purchasing using system science. This work will use data from the STORE study, a natural experiment that examined a local city ordinance's effect on food retail and customer food and beverage purchasing. The STORE study was led by Dr. Melissa Laska, one of Dr. Winkler's MnOPT mentors, and Dr. Winkler was very involved in the STORE study throughout her postdoc.
During her postdoc, Dr. Winkler was also heavily involved in Project EAT, led by another MnOPT mentor, Dr. Dianne Neumark-Sztainer. Project EAT is the most comprehensive longitudinal body of research examining multi-level predictors of a broad spectrum of weight-related problems from adolescence into adulthood. Dr. Winkler's involvement in Project EAT resulted in numerous publications and first-author oral presentations. She also played an integral role in the submission of a successful R21 application (PI: Nancy Sherwood) that will use the Project EAT data to investigate the complex heterogeneity and contextual drivers that link dieting, disordered eating, and obesity during the transition to adulthood. Finally, her research on work conditions and health, implemented through Project EAT during her postdoc, is now being continued with support through a contract Dr. Winkler has with the National Institute of Occupational Safety and Health.
In addition to research achievements during her fellowship, Dr. Winkler also co-taught PubH 6636- Qualitative Research Methods in Public Health Practice with Dr. Laska, helped mentor predoctoral trainees and undergraduate students, and led bi-weekly meetings of the Division's postdoctoral trainee group.
Dr. Winkler took full advantage of her postdoctoral experience and is well positioned for a successful independent research career.