"When COVID hit, I was laid off from my job and had to decide whether to continue on my path as a paralegal or try something new. I chose the latter and began searching for public health degree programs that would help me redirect my passion for law and policy in a way that would be useful during the pandemic."
First, I'd like to know a little bit about you as a person. Where did you grow up? Where did you attend undergrad and what was your degree/area of study? [Hannah] I grew up in St. Louis Park, a mid-sized suburb just west of Minneapolis. Being so close to the Twin Cities, I spent my childhood years walking the Uptown lakes, biking the Midtown Greenway, and playing sports at parks and recreational facilities across the metro area. I'm proud to call St. Louis Park home, primarily because of the excellent public schools and community programming for kids. After high school, I attended Yale University where I majored in political science and German. I developed a keen interest in law, policy, and government during my college years and was eager to explore career options in one or more of these areas after graduation.
What drew you to public health? [Hannah] I was one of the many people who did a "pandemic pivot" in 2020. Prior to the pandemic, I had worked for three years as an immigration paralegal at law firms in Minneapolis and Washington, D.C. When COVID hit, I was laid off from my job and had to decide whether to continue on my path as a paralegal or try something new. I chose the latter and began searching for public health degree programs that would help me redirect my passion for law and policy in a way that would be useful during the pandemic. When I found the Public Health Administration and Policy (PHAP) MPH program at the University of Minnesota School of Public Health, I knew it would be a great fit for me and decided to apply.  
What specific issue, problem, or area of research in public health do you care the most about and why? [Hannah] I care most about improving health insurance coverage and affordability in the United States. In my ideal world, the U.S. would have universal healthcare just like every other wealthy, industrialized nation. I find it frustrating that millions of Americans either do not have health insurance or struggle to afford the coverage they have, which affects their ability to obtain needed medical care and maintain their health. I knew very little about America's health insurance landscape before starting the PHAP program, but now I feel like I have learned enough from my graduate coursework to be critical of the U.S.'s employer-based health insurance model.   
How would you like to help address or explore this issue?
[Hannah] After graduating from the PHAP program, I'd like to work as a health policy professional to advocate for laws and policies that expand health insurance coverage to more people. I'm particularly interested in working with state lawmakers to expand Medicaid and Children's Health Insurance Program (CHIP) coverage to immigrant populations that are currently ineligible for these programs. For my master's project, I'm advocating for a Cover All Kids program in Minnesota that would expand Minnesota's Medicaid and CHIP programs– known as Medical Assistance and MinnesotaCare, respectively–to undocumented children. I recently published an op-ed essay in MinnPost to raise awareness about Cover All Kids programs that already exist in a dozen other states and urge Minnesota lawmakers to enact a Cover All Kids program during the 2023-2024 legislative session.
Are you currently involved in any public health research or professional work?
[Hannah] Yes! I'm currently a graduate research assistant at the State Health Access Data Assistance Center (SHADAC) and the Center for Public Health Systems (CPHS), both of which are part of the School of Public Health. I began working at SHADAC in May 2021 and have learned a great deal about Medicaid and CHIP during my time there. It was during the summer of 2021 that I first learned about Cover All Kids initiatives, which is now the subject of my Master's Project. As a SHADAC RA, I assist SHADAC staff in various administrative and research tasks. I've also had the opportunity to co-author several research briefs on public health funding, collection of race/ethnicity data on state Medicaid applications, and anxiety and depression rates during the COVID-19 pandemic. I began working at CPHS this past fall and am working on a project that analyzes declarations made by state and local health departments stating that racism is a public health crisis. I've found that both of my RA jobs complement my graduate studies quite well and have allowed me to deepen my knowledge and understanding of different public health topics.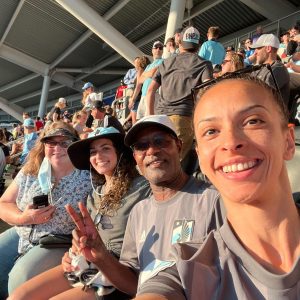 Why did you choose to come to the U of M School of Public Health?
[Hannah] Once I had made up my mind to pursue a Master of Public Health degree during the COVID-19 pandemic, I couldn't imagine studying anywhere else other than in the city where I intend to live and work for the rest of my life. My love of Minneapolis made the decision quite simple. Beyond the location of the school, I also found the SPH faculty to be fascinating and incredibly impressive people. One of my goals heading into graduate school was to develop relationships with some of the SPH faculty; fortunately, I've been able to do so through both my courses and my student jobs.  
What are the reasons why you chose your program? What do you like about it?
[Hannah] The curriculum immediately piqued my interest because of its policy focus. I also really appreciated the emphasis on skill development and practical experiences, like the Applied Practice component of the PHAP program. In comparison to my undergraduate experience, which was extremely academic in terms of work being solely for a grade, my graduate school experience has been more practical in terms of building a portfolio of skills, writing samples, and professional experiences that will be immensely helpful as I begin applying for full-time jobs. 
What has been your favorite class so far?
[Hannah] My favorite class is a two-way tie between Professor Katy Kozhimannil's course, Principles of Health Policy (PubH 6735), and Associate Professor Ezra Golberstein's course, The Healthcare System and Public Health (PubH 6724). I took both of these courses during my first semester in the PHAP program and both of them were absolutely critical in getting my bearings as a newcomer to public health. These courses have been the most helpful in identifying which area of public health I'm most passionate about and what type of work I'd like to do after graduation. My Master's Project is a health policy-related advocacy and research project that incorporates the skills and knowledge that I learned from professors Kozhimannil and Golberstein. Specifically, I'm applying my knowledge of Medicaid and CHIP (learned in Associate Professor Golberstein's course) and my writing and advocacy skills (learned in Professor Kozhimannil's course) to push for an expansion of Medicaid/CHIP in Minnesota that would cover undocumented children. 
In what ways is the school a good fit for you?
[Hannah] The school has been a great fit in terms of encouraging students to pursue student employment opportunities. I went into graduate school eager to gain relevant employment experience as a student that would help me determine what types of work I do and don't enjoy. I also love the mentorship – from instructors as well as fellow students – that I've experienced in the PHAP program.  
What do you like about being in Minnesota?
[Hannah] What I love most about being in Minnesota is my close proximity to my family, virtually all of whom live here. I spent my four college years and the two years post-college living far away from home, and I finally realized after those six years that I would be happiest building my life and career in Minnesota. Like many Minnesotans, I'm obsessed with the lakes and all the recreational fun that you can have in, on, or around them. My favorite lakes are Bde Maka Ska and Lake of the Isles in the Uptown neighborhood of Minneapolis, as well as Lake Superior up on the North Shore. Last but not least, I enjoy the change of seasons in Minnesota because it feels like there's always something to look forward to weather-wise. Fall is my favorite season because of the gorgeous colors, but I'm also a huge fan of our cold, snowy winters!