"I really love the cohort model, and people in my cohort have said they enjoy having an Indigenous perspective. It's so great to learn how other people in my cohort navigate their work as well."
First, I'd like to know a little bit about you as a person. Where did you grow up? Where did you attend undergrad and what was your degree/area of study? (Stacy) I grew up in the northwest suburbs of the Twin Cities and all my grade schooling was in Anoka, MN. After high school, I attended one semester of college, but found myself not ready, and very anxious to get out and explore. Therefore, at the age of 18, I packed up and moved to Alaska! After meeting my future husband and spending a bit over a year living in the most beautiful place on earth, I moved back to the Twin Cities to work for Northwest Airlines, as a flight attendant. I've always had a passion for travel and I wanted to experience different cultures and different areas of the world.

How did you become interested in public health?
(Stacy) After 10 years working at Northwest, I started having kids, and realized I didn't want to continue working as a flight attendant. When I was pregnant I became really interested in nutrition and started reading a lot of books on how to make sure I was eating the right types of foods to help grow a healthy baby. Then, after my second child was born, I left my job as a flight attendant and started attending Minnesota State University in Mankato and graduated in 2012 with a bachelor's degree in family consumer science with a focus on nutrition and dietetics. Upon graduation, I attended the University of Delaware (UD) remotely for their Graduate dietetics program. After I graduated from UD, and passed the Registered Dietitian Board exam, I was hired by my tribal community — the Lower Sioux Indian Community. 
What was your experience working there like?
(Stacy) On our reservation, about 25% of our population has type 2 diabetes, and other chronic diseases. My dad grew up on the reservation and his dream was that someday we would have our own Tribal Clinic. When I began my career, I was the first Registered Dietitian hired to work in our tribal health department. We were also a very small department of 4, without our own tribal run clinic. Today, our community health department includes a team of 12, and I serve as the Director of Community Health, administering a variety of public health programs. We are also in our 6th year of operating our own tribal run clinic, the Lower Sioux Health Care Center, where we are able to link community health to clinic operations.

How did you become interested in working in public health?
(Stacy) When I first started working for my tribal community, the Lower Sioux Indian Community, I knew I wanted to go back to grad school but I wanted to get my feet wet with clinical nutrition first. I slowly learned how important it was to build relationships with policymakers and members of the community. One of the most valuable relationships I formed was with the American Indian Cancer Foundation (AICAF). Our Tribal community had  a few different committees, but there has never been one focused on health. So, I decided to partner with AICAF, and get them involved within our community and, with community member input, and Tribal Council support, we formed a committee of eight members to build a brand new committee for health. I learned from AICAF about policies, systems  and environmental changes and the first thing the committee wanted to work on was healthy foods and promoting healthy diets. We worked to create a new policy named the 'Honoring Little Crow with Healthy and Indigenous Foods Initiative.' It was adopted by our Tribal Council and created guidelines our Community's departments had to adhere to provide healthier eating options at community events, to name a few of the initiatives within the resolution.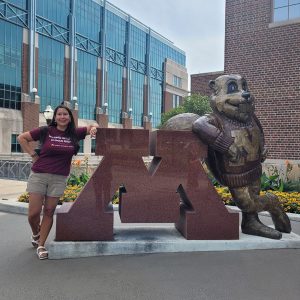 What led you to pursuing an Executive Degree in Public Health Administration & Policy?
(Stacy) I noticed my job was becoming slightly more public health focused, but I felt like I was still missing something. There were so many different skills that I felt like I needed to learn. I had some colleagues who had Public Health Administration and Policy MPH degrees from the U of M School of Public Health and they shared some of the tools and skills they learned and I became even more interested. So far, it's been wonderful to work with a team like Chris Miller and Dr. Rebecca Wurtz. I was apprehensive about, "Am I going to be able to handle this?" I will need to balance homework, a demanding, full time career, and a family, but it all goes hand in hand and has led to many "ah-ha" moments that I'm grateful for.
I really love the cohort model, and people in my cohort have said they enjoy having an Indigenous perspective. It's so great to learn how other people in my cohort navigate their work as well. I am currently at the end of my first year, and recently met my cohort in person for the first time during our 4 days on campus session. I can honestly say, I feel that my cohort feels like family already! We are so supportive of one another.
What specific issue, problem, or area of research in public health do you care the most about and why? (Stacy) I think for me, nutrition is still a very important part of my role and is one of my passions. The reason why the Executive PHAP program really spoke to me is the policy development piece. I'm really interested in learning more about policy writing and working with government agencies. Tribal nations are supposed to be sovereign nations but the federal government doesn't always recognize us as such so we end up dealing with lots of different agencies in order to get things done. I'm hoping to walk away from this program with the tools and the knowledge to work within that system more effectively.

Why did you choose to come to the U of M School of Public Health? (Stacy) I was applying for a fellowship to attend other universities that also have public health programs with an Indigenous focus. Then, I learned from my sister that the U of M School of Public Health was offering scholarships for Indigenous folks. I reached out to Associate Professor Linda Bane Frizzell to learn more about it and she connected me with Associate Professor Rebecca Wurtz. After speaking with her and Chris Miller, I could really tell that they cared about me and that they were genuine. I was interested in the distance program but they talked to me about how the executive program would probably be a better fit because of my work experience. I was so impressed with the way they talked about the cohort model and it's such a cool dynamic. Immediately, we were put into a cohort and they're so great – many of us have kids, and all of us have been working in the healthcare field and we all shared these fears about going back to school. Being in the same boat with everyone has really built camaraderie. The cohort really encourages each other. 
What has been your favorite class so far? (Stacy) So far, PubH 6751, Principles of Management in Health Services Organizations with Dr. Rebecca Wurtz has been my favorite. The reason why her class resonated with me is because she was so involved. We were able to learn from each other in our cohort, by utilizing real world experiences embedded into the curriculum. Everything she had us do had purpose, there was never busy work. That class was so beneficial and so spot on with the work that I do. I learned lots of effective management techniques and how to be a good leader. You can tell her heart is in it.
Lastly, what do you like about being in Minnesota? (Stacy) The four seasons! I love these cool mornings. I always look forward to the fall. I don't care for warm weather year round. I like things to be changing and by the time I get to the end of the season, I'm ready for the next one.