Minnesota native Sonja Ausen-Anifrani studied abroad in Kenya, received her master's degree in international studies, and worked on refugee resettlement grants after college at both the local and national level. Her whole life she has wanted to help people, and found her interests gravitating toward refugee communities and the challenges they face.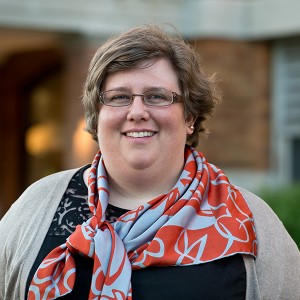 "For example, there's a requirement for refugees to get a health screening within 30 days of arriving in the United States, but often complex medical needs or clinic wait times and provider availability slow down the screening process and they can't meet the deadline, " says Ausen-Anifrani.
She knew an MPH degree could give her the education and experience she needed to make a difference in the lives of refugees.
While applying to graduate schools of public health and living in New York, Ausen-Anifrani was drawn to Minnesota for the area's rich immigrant community, which includes the largest group of Somalis, the second largest Hmong population, and one of the fastest growing Latino populations in the United States.
"There is such broad diversity of immigrants and refugees in the Twin Cities that I knew I would have a lot of opportunities to again work within these communities and populations during my graduate studies," says Ausen-Anifrani. "When you learn about new cultures, you learn that your way isn't always the best or right way, your worldview expands."
Ausen-Anifrani is now a School of Public Health MPH candidate in the maternal and child health program at the University of Minnesota. She has been completing her degree while working full-time as the associate director for Wisdom Ways Center for Spirituality, a St. Paul-based ministry of the Sisters of St. Joseph of Carondelet that offers programs to explore the spiritual dimensions of contemporary life.
In this position, she has gained leadership and supervision skills, and has also been able to see her work with diverse populations in a new way. "A lot of refugees come to the United States with very important religious and spiritual beliefs, and working to understand these beliefs is integral in how we approach lasting and sustainable public health interventions."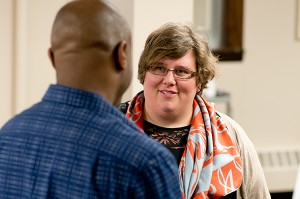 Integrating her interests in public health and international populations, at Wisdom Ways she has developed a grant that explores the connection between spirituality and disordered eating among diverse groups of young women.
"I've been able to blend my education with my work, which has really allowed me to grow professionally."
While in school, Ausen-Anifrani has taken advantage of both online and in-person courses and has embedded herself in the immigrant and local communities through various research projects. Alongside School of Public Health Associate Professor Sonya Brady, she interviewed students and their caregivers at a school in East St. Paul, many of whom come from diverse backgrounds. The study aimed to understand health disparities among youth and how life experiences of children and caregivers impacts school behavior. She also administered mental health interviews within the Karen refugee population for a study at the Center for Victims of Torture to consider if having mental health services on-site at the primary care facility was beneficial to mental health treatment and outcomes for this refugee population. Her field experience brought her to the Minnesota Department of Health, where she conducted interviews with health professionals to improve local perinatal HIV systems. "I came into graduate school really focused on working with refugees and these experiences blew the doors wide open to all of the possibilities to work with different communities as part of public health work," she says.
Ausen-Anifrani is now expanding her work internationally to Uganda, which has one of the highest maternal mortality rates in East Africa. Stemming from an Acara Institute class project, she's currently working with three classmates to launch SMS Maama, which uses text messaging to contact expectant mothers with health information and health screening questions with the hopes of decreasing health complications and increasing contact with the health provider. "Initial research shows that texting educational platforms have been really effective in helping more women have healthy, full-term births and in creating greater levels of engagement in their healthcare, so we wanted to explore that further," Ausen-Anifrani says.
SMS Maama has provided Ausen-Anifrani the opportunity to learn the business side of directing a public health initiative. "It's a labor of love," says Ausen-Anifrani. "I've learned so much from this project about working and researching internationally and making decisions collaboratively with others. I've really also learned the value of needing to be flexible and patient." The group is working to pilot the program this summer.
For Ausen-Anifrani, blending community and international work with her education has made the most impact. "The community here really enhances the school experience," she says. "It has been a real gift."