On March 21, 2023 the University of Minnesota School of Public Health (SPH) opened its doors to a group of teachers, instructional coaches, and career counselors from St. Paul Public Schools (SPPS). The educators spent the better part of a day learning about pathways into public health careers through presentations by SPH students, faculty, and staff.
Many schools, including SPPS, are rolling out new initiatives to get students thinking about career options and corresponding competencies and courses while they are still in high school. Most students are not aware that public health offers so many different career options and ways to make an impact in healthcare  and health outcomes outside of the medical field.
Diverse Experiences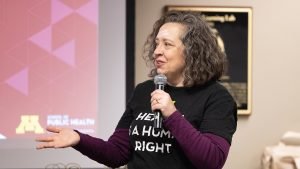 SPH Biostatistics Lecturer Marta Shore organized the visit that included research presentations from faculty, and story sharing from students, faculty, and staff about their career journeys into public health. The SPH presenters represented a diversity of positions, ages, genders, and races, showing the educators that their students would be able to see themselves reflected in the public health workforce, and underscored that the public health field welcomes diverse experiences and skills. 
"It's important for teachers to put their students into a position to succeed," said Gayle Smaller, Jr., SPH associate director of DEI, who shared how he found a career helping students of color in Minnesota succeed in public health careers. "I never saw myself here, but it has come full circle," he says of his career journey starting in Minneapolis public schools to becoming a first-generation college student and higher education administrator. He emphasized that the field of public health is for people who want to make their communities better. "Public health is for good-hearted people," he said.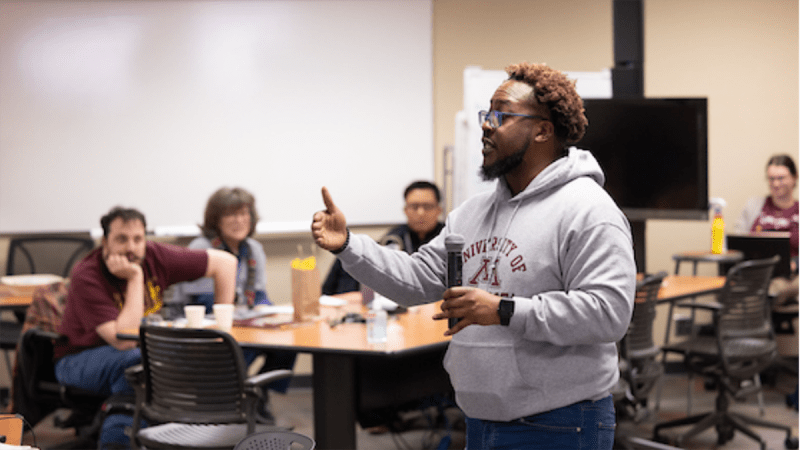 Finding the Perfect Career Fit
As several faculty and staff attested, many students who initially explore science or medical fields eventually found their fit in public health. As each member of SPH shared their career journey, a theme began to emerge: no one started out thinking they would work in public health, but each person was united in their desire to be in a "helping profession." They ended up finding that perfect mix of a job with impact that appealed to their unique skills and interests in SPH. 
SPPS school counselor Susan Laskowski revealed that Health Sciences is the most requested advanced placement course in the St Paul Career Pathway Center.  "My students want to explore education in areas they've been exposed to in their personal lives including aging, disease, and mental health," she said.
Prepared to Learn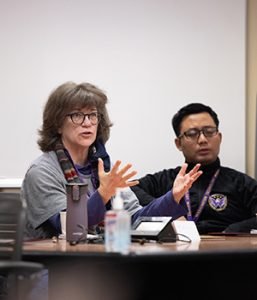 The educators explored the breadth of research expertise in SPH through a lab tour and faculty research presentations. Presenters included Assistant Professor Jue Hou, who talked about his work analyzing electronic health record data to advance understanding of diseases; Assistant Professor Thierry Chekouo, who offered information on what courses and competencies would be important for students to explore in order to join his research project, which uses statistical frameworks to analyze disparate data sets in order to prevent disease; and Colleen Flattum, director of programming and strategic initiatives at SPH and a registered dietitian, who developed curriculum for K-12 schools focusing on healthy eating and contributes to Project EAT, a wealth of research examining weight-related problems among youth.
Ellen Debe, a high school literacy coach, planned to take what she learned and apply it to her work with teachers across the curriculum including science and English. "Students need to be more prepared and know what to expect before they enter a career," she said. "Public health offers a lot of options."
SPPS High School Curriculum Supervisor Alex Ward underscored the impact of the visit, "As we think of ways to make our curriculum relevant to our students and their lives in the future, this work and collaboration is vital." He explained that the teachers who participated will come together to find ways to add their "newfound learning to their courses and to change the trajectory for our students."