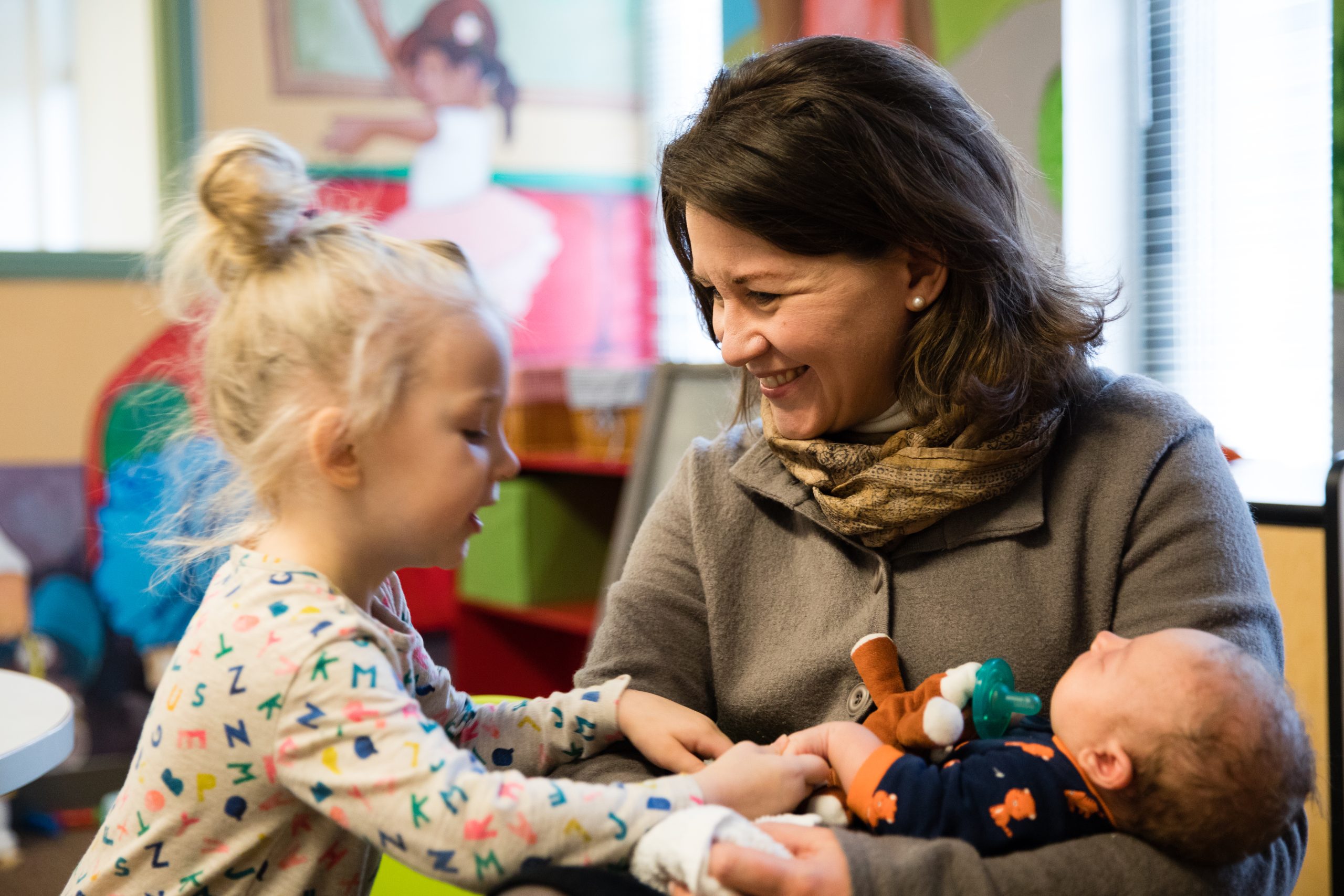 Good early nutrition for children, particularly in the first 1,000 days from conception to age two, is essential in shaping positive outcomes for both future obesity risk and neurocognitive development. But federal dietary guidelines for Americans aged 0-2 years were not developed until 2020, and the National Institutes of Health has identified numerous gaps in what we know about that critical time. 
Ellen Demerath has spent her career filling in those gaps by looking at, among other things,  how our very first food, breast milk, sets the stage for later health. For her work on this vital topic, her service to the University, and her dedication as a teacher and mentor, Demerath was awarded the title Distinguished McKnight University Professor, one of the University of Minnesota's highest honors. Demerath will hold the title for as long as she remains at the University and her name will be added to the Scholar's Walk.
"Ellen's pioneering research on human milk, nutrition, and the developing brain is crucial," says School of Public Health Interim Dean Tim Beebe. "She also co-founded and co-directs the Driven to Discover Research Facility at the State Fair, which has truly advanced community-engaged research. Ellen is extremely deserving of this honor and we are so fortunate to have her at our school."
In 2014, Demerath began one of the largest longitudinal investigations of human milk in the U.S., the MILK (Mothers and Infants LinKed for Healthy Growth) Study. The study is following 500 mother-infant pairs to analyze this complex and greatly understudied "first food," and assess its impact on infant growth, body fat, and the gut microbiome. The findings from the study are advancing the understanding of the mother-infant-milk connection and identifying dietary and other behavioral changes that can improve maternal and infant health outcomes. Demerath was recently awarded one of three large National Institutes of Health grants to understand the systems biology of human milk, meaning analysis of milk composition that simultaneously looks for the functional relationships among its many different components, from the molecular to the nutritional.

"Although we know that human milk has numerous benefits for infant growth and development as compared to formula, we know surprisingly little about the unique recipe for milk that each breastfeeding person produces, or the mechanisms by which breastmilk composition improves infant growth," says Demerath. "Furthermore, we have only begun to understand the many benefits of lactation and breastfeeding for maternal health, particularly for those at elevated risk for cardiovascular diseases and metabolic diseases, such as type 2 diabetes."
Best Brain Development
Demerath's work has had an impact across a range of disciplines, including maternal and child health, public health nutrition, pediatrics, human biology, and genetic nutritional epidemiology. Currently, she is also working with her University neonatology colleagues to better identify preterm infants at higher risk of neurocognitive delay and to test new nutritional interventions to increase growth and development. In assessing body composition for preterm and term infants, the research group discovered that it is the amount of lean tissue, not fat mass, that drives appropriate brain development. Her group recently published the first growth charts to help neonatologists track not only body weight and length, as current charts do, but also the quality of that weight in terms of lean and fat mass.
When she co-founded the Driven to Discover (D2D) Research Facility, with Medical School colleague Dr. Logan Spector, Demerath wanted a way for people to more easily enroll in University studies, connect with science, and advance research. From 2014–2022, 382,400 people have visited the D2D building and nearly 130,000 fairgoers have enrolled in studies.
"I am truly honored to receive the Distinguished McKnight University Professorship," says Demerath. "It is exciting because the funds that accompany this award will help us to support an interdisciplinary team to advance research on both the complex biology of human milk and how breastfeeding support can reduce disparities in maternal and infant health."