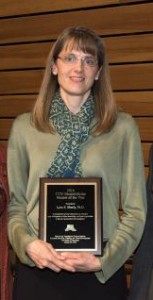 At the University of Minnesota's Clinical and Translational Science Institute Poster Session on Jan. 20, 2016, School of Public Health Associate Professor Lynn Eberly was awarded the first CTSI Biostatistician Mentor of the Year Award, which recognizes outstanding biostatistical mentors.
Dr. Eberly is an internationally recognized statistician who is funded on numerous NIH projects. She has been working with clinical research and biomarker investigations throughout her career, with current foci in neurodegenerative diseases, psychiatry, and diabetes, in particular in studies using medical imaging.
"Mentees praised Dr. Eberly for her keen intellect, dedication, patience, thoughtfulness, and ability to help her mentees become successful independent researchers," Anne Marie Weber-Main, PhD, Medical School Associate Professor and CTSI Co-director of Mentoring told attendees at the event.
Eberly has been with the School of Public Health since 1997 and received her PhD from Cornell University. She teaches MS and PhD courses in the School of Public Health's biostatistics division.