Assistant Professor Shekinah Fashaw-Walters has received the Outstanding Dissertation Award from AcademyHealth for her dissertation, Inequities in Home Health Access, Outcomes, and the Impact of Public Reporting. The Outstanding Dissertation Award honors an outstanding scientific contribution from a doctoral thesis in health services research or health policy. Fashaw-Walters will be recognized at the AcademyHealth Annual Research Meeting on June 6 in Washington, D.C.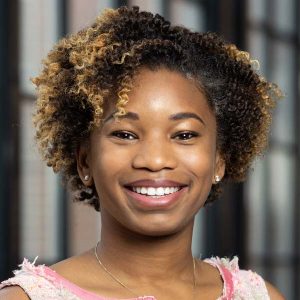 In this dissertation research, Fashaw-Walters was among the first researchers to use models that examine patient, provider, place-based, and societal contexts through a structural lens to explore disparities in home- and community-based long-term services and supports (LTSS) and the unintended consequences of policies in this setting. Her dissertation offers several different policy and practice recommendations including providing resources and financial incentives to home health agencies and to consider adjusting star ratings for racism-related social determinants of health. She also provides recommendations to increase outreach to minoritized and low-income patients to inform them about publicly reported quality information to help them make informed choices.
Fashaw-Walters is a health equity and aging tenure-track Assistant Professor in the Division of Health Policy & Management at the University of Minnesota's School of Public Health, a graduate of Brown University, UNC Chapel Hill, and the University of Central Florida. Fashaw-Walters is also an affiliate faculty member with the Center for Antiracism Research for Health Equity and the Center for Healthy Aging and Innovation.
Congratulations to Assistant Professor Shekinah Fashaw-Walters on her award!