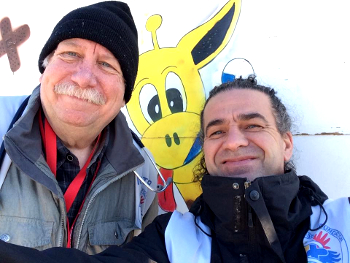 In January 2017, Emeritus Professor Charles Oberg (MPH '84) traveled to Lesbos, Greece, to help care for thousands of refugees who are sequestered and living in harsh, subsisting conditions on the island. Lesbos lies just 4.1 miles off the coast of Turkey and in 2016 it became one of the epicenters for the flood of Middle Eastern and African refugees seeking asylum in Europe.
Oberg, who is also a physician, visited the island as a member of the Netherlands-based Boat Refugee Foundation and provided medical and psychological trauma treatment to people staying on the grounds of a former military base.
In the journal entry below, Oberg shares his observations and thoughts on the situation in Lesbos and the refugee crisis:
As President Trump's proposed U.S. refugee travel ban continues to work its way through the courts, I make a plea for benevolence and tolerance rather than fear.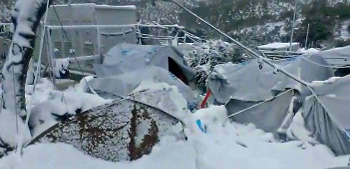 I recently returned home from working in the refugee camps on the Greek ​island of Lesbos. I was volunteering with the Boat Refugee Foundation, a Netherlands-based NGO. I spent the majority of my time in the notorious Moria Refugee Camp. The camp is beyond description and is a surreal mix of an internment camp and shanty squatter community encampment. Based in an old army compound, it is defined by the steel gates, high fencing, and barbed wire from the outside and an amorphous sea of tarps and tents on the inside.
The weather had turned brutally cold. Over a foot of snow was followed by freezing rain. The cold and dampness penetrated to the bone.
Food queues, inadequate unsanitary toilet facilities, and ubiquitous garbage were the norm.
There are over 4​,​500 refugees. They had traveled from Syria, Iraq, Iran, Afghanistan, and Pakistan from the Middle East. They came from across the African Continent with families from the Democratic Republic of the Congo (DRC), Ghana, Uganda, Somalia, Eritrea,​ and Sudan. In addition, I treated families from as far east as Bangladesh and west from Haiti and the Dominican Republic.
Almost all had experienced trauma. Some beaten, shot, tortured, and raped — and all had experienced the stress of living in unlivable conditions. The complaints were a blur of physical, mental, and spiritual ailments.
Yet, there was a palpable hope that one day things would be better with aspirations of a better future. Daily they expressed their gratitude that someone would listen as they shared the story of their journey, affirmed their worth, acknowledged their struggle​,​ and celebrated their humanity.
You could see it in their eyes and their smiles that each was seeking a better life for themselves and their children.
I saw no terrorist. I just saw families, children, men,​ and women​ — all vulnerable and suffering.
So let us remember that our kindness will make us safer than any ban.