School of Public Health (SPH) students Cory Anderson, Delaine Anderson, Alexandria Kristensen-Cabrera, Emily McGuire, and Sarah Samorodnitsky have each been awarded the President's Student Leadership & Service Award (PSLSA) from the University of Minnesota. The awards recognize the accomplishments and contributions of outstanding student leaders on the Twin Cities campus and are presented to students for their service to the University and surrounding community.
Cory Anderson
PhD candidate in Environmental Health with a concentration on Infectious Diseases.
Advisor: Regents Professor Michael Osterholm 
Cory Anderson earned a PSLSA for his work as a graduate research assistant for the University's Center for Infectious Disease Research and Policy (CIDRAP). Anderson's role in CIDRAP includes work with the center's chronic wasting disease projects as well as numerous COVID-19 efforts, such as establishing the COVID-19 Resource Center and the "Osterholm Update" podcast. 
"Everyone is familiar with the many painful challenges COVID-19 has caused and there's been no shortage of confusion regarding the pandemic," said Anderson. "In that regard, the amazing opportunities I've been given by CIDRAP to help alleviate these issues have been a gift both personally and professionally. The work I've been involved with has been used in policy discussions at many different levels. And hearing the firsthand experiences or words of gratitude from listeners of the Osterholm Update podcast has been particularly special."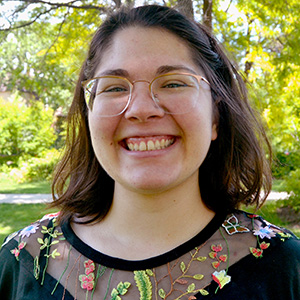 Delaine Anderson
MPH student in Maternal & Child Health, with minors in Epidemiology and Health Services Research, Policy & Administration.
Advisor: Professor Jamie Stang
Delaine Anderson received a PSLSA for extraordinary involvement in professional roles and community-building efforts across Minnesota. For the state, Anderson worked on the Minnesota Department of Health's Pregnancy Risk Assessment Monitoring System team. She serves as a membership and communications co-chair for the Minnesota Public Health Association as well. On campus, Anderson has completed award-winning research projects and performed community based participatory research via her Center for Urban and Regional Affairs graduate assistantship. Anderson is also the director of the SPH's Rural Health Interest Group and a student leader of the Maternal and Child Health Interest Group, Diversity Network, and the Public Health Review student-led journal.
"My extracurricular activities are grounded in building community," said Anderson. "Too often in our lives we feel like we are traversing alone, when in reality we are surrounded by friends, colleagues, and family who want to help us succeed! Creating spaces to foster relationships and grow together has been the highlight of my graduate school career."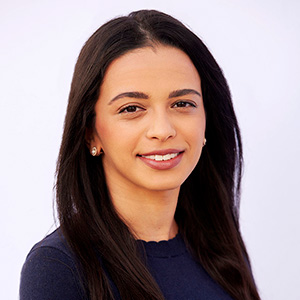 Alexandria Kristensen-Cabrera
PhD-MD in Health Services Research, Policy & Administration
Advisors: Professor Katy Backes Kozhimannil and Associate Professor and Blue Cross Endowed Professor of Health and Racial Equity Rachel Hardeman. 
Alexandria Kristensen-Cabrera was honored with a PSLSA primarily for her work to dismantle structural racism on campus and in Minnesota. Kristensen-Cabrera contributed to work toward enacting an anti-racist medical school curriculum at the University, and diversity, equity, and inclusion projects for the University's Medical Scientist Training Program. She advocated for a Minnesota bill to modify substance use reporting requirements for pregnant patients, which disproportionately affects minorities — particularly Black and Indigenous birthing people in Minnesota. Kristensen-Cabrera also conducted community-based participatory research on structural racism, maternal and child health, and gender violence; and helped with COVID-19 prevention and education initiatives.
"I have seen the long-term effects of structural racism growing up in my own family and communities," said Kristensen-Cabrera. "Black and Indigenous babies are more likely to die before their first birthday than their white counterparts. I think this is heartbreaking and unacceptable. I'm interested in better understanding why these disparities exist, what can be done to address them, and am proud to join generations of BIPOC scholars and community members in this work."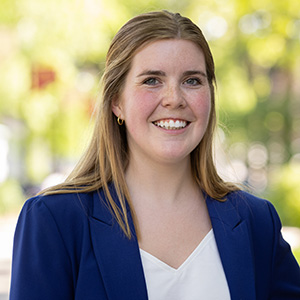 Emily McGuire
MPH student in Community Health Promotion with a minor in Public Policy
Advisor: Associate Professor Rebecca Schlafer 
A PSLSA was given to Emily McGuire for her significant and influential on-campus leadership. McGuire was the 2021-22 president of the School of Public Health Student Senate as well as a University Senator from 2020 to 2022. She also served on the new Campus Safety Committee for the 2021-2022 school year advocating for a public health approach to policy issues at the University, such as COVID-19 policies and issues with student health benefits. 
"During my time as a student leader at the School of Public Health I learned a lot of valuable skills, but I think it all boils down to one thing: The most important thing about leadership is caring," said McGuire. "There is such power in showing that you truly care about something and engaging with your peers and leadership to create change. I will carry this lesson on with me to my future jobs and community engagements."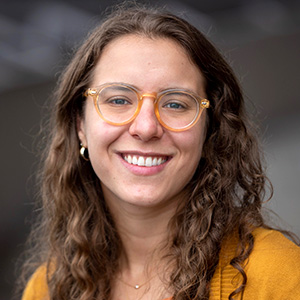 Sarah Samorodnitsky
PhD student in Biostatistics
Advisor: Associate Professor Eric Lock 
The University recognized Sarah Samorodnitsky with a PSLSA for her work with the Biostatistics Community Outreach and Engagement (BCOE) Committee. Over the past year, Samorodnitsky and the committee have worked with St. Paul Public Schools to develop K-12 curriculum materials on biostatistics concepts. The goal is to spread awareness of the field of biostatistics to young students, especially those of diverse backgrounds. Samorodnitsky's work helping BCOE bring biostatistics to the schools has ranged from helping to create classroom lessons to collaborating with the Minnesota Pollution Control Agency on a web app students use to explore local air quality data.
"It is rewarding to know that St. Paul students are becoming more data literate, especially in a world where we are exposed to more and more of it," said Samorodnitsky. "It feels great to be recognized with this award and I am grateful to the faculty who nominated me for it. Most of all, I'm excited to continue building our division's outreach program."