Ruminant animals — including cows, sheep, and goats — are natural reservoirs for a dangerous bacteria called Shiga toxin-producing E. coli (STEC). People who are exposed to this bacteria — especially young children under the age of 5 — are at risk for developing hemolytic uremic syndrome (HUS), which is a very serious illness that can lead to renal failure. A new School of Public Health study shows that directly handling animals on farms or at agricultural events, such as fairs, can raise the risk of developing HUS in people.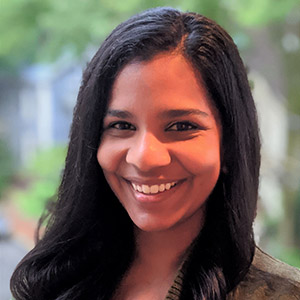 The study was led by PhD student Madhura Vachon and published in the journal One Health.  
STEC bacteria with the genes for producing a particular type of Shiga Toxin, Stx2, are known to cause HUS. 
"We also know the STEC transmitted via direct animal contact tends to have the gene for the Stx2 toxin, so we wanted to see if animal exposure was associated with HUS," says Vachon.
Vachon conducted the study by reviewing 784 laboratory-confirmed cases of STEC reported by the Indiana State Department of Health from 2012 to 2018. 
The study found:
6% of STEC patients developed HUS. 

52% of the HUS patients reported direct contact with farm animals.

Statistical analysis of the data showed that the presence of

stx2

genes in

E. coli

didn't completely account for the development of HUS in STEC patients who had farm animal contact.
"The results show that direct farm animal contact was a key risk factor for the development of HUS among STEC cases independent of stx2 gene presence," says Vachon."This means that only a small portion of this association is due to stx2, suggesting the existence of other important mechanisms that lead to HUS."
The findings have implications for healthcare providers and also for people who are involved in planning agricultural events. 
Incidence of STEC bacterial infections has seasonal variability, with disease incidence peaking in the summer months. STEC colonization in cattle has also been found to be higher in warmer months when compared to cooler months. Additionally, the contact rate between humans and ruminant animals is higher during warmer months due to agricultural events featuring the opportunity to see and touch animals. The combination of these factors places an importance on seasonality, which clinicians should be aware of when determining the prognosis for STEC cases. 
As a precaution, Vachon says operators of venues allowing direct contact between farm animals and members of the public should take steps to prevent transmission of STEC. Visitors, event operators, and staff should be educated on the disease risks associated with live animal contact. The public should especially be informed that high risk groups — including small children under the age of 5, elderly people, and immunocompromised people — may develop more severe clinical complications from STEC and other zoonotic disease. This information can be communicated through signage, verbal reminders from staff, media advertising, and other means. Vachon recommends that venue operators consult the "Compendium of Measures to Prevent Disease Associated with Animals in Public Settings, 2017" authored by the National Association of State Public Health Veterinarians for more information. 
"Particularly, it is important that venues have animal areas separated from non-animal areas with a transition area in between," says Vachon. "Consumption of food should also be prohibited in animal areas and strollers, toys, and other objects that children use should not be allowed in the spaces. "
Vachon is continuing her research into STEC and is now working on a study using surveillance data from the Minnesota Department of Health to look at the association between exposure source and the severity of clinical outcomes in Minnesota patients.