Racism's toll on the health of Black Americans is devastating and made visible by the outsized proportion of COVID-19 deaths in the Black community and statistics such as Black mothers die at twice the rate of their white counterparts. Understanding the racist roots of health inequities and then discerning how to create more just systems going forward is how Rachel Hardeman spends her days.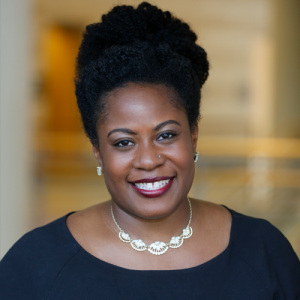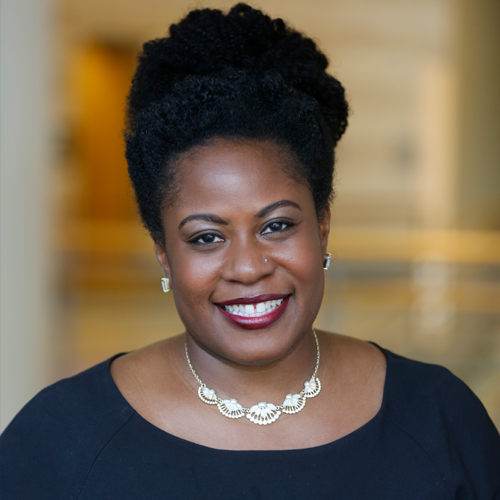 In June 2020, Hardeman, associate professor in the School of Public Health Division of Health Policy and Management, became the first Blue Cross Endowed Professor of Health and Racial Equity. The Blue Cross and Blue Shield of Minnesota Foundation is committed to advancing health equity and working to ensure that all people have the support and resources needed to reach their full health potential. The foundation believes that endowing a professorship specifically focused on ending racial and health inequities is a critical component of this effort and an important evolution in its partnership with the School of Public Health. The school's guiding value that "health is a human right" aligns closely with the foundation's belief and its work. And the foundation's goal "to change the core factors that negatively impact the health of Minnesotans long before the need for medical care," echoes the mission of public health.
"I'm honored to be named the inaugural Blue Cross Endowed Professor of Health and Racial Equity," says Hardeman. "While titles alone don't create change, the resources, institutional support, and right people to lead the work do. I'm committed to creating critically conscious and effective scholarship that challenges the systems of oppression that prohibit Black people from thriving."
"Sometimes we can't retrofit equity into an institution steeped in inequity. We have to confront what's not working and build something better."
When Hardeman began her career in 2014, she knew there was implicit bias in health care, but there was little context for exploring and naming the larger force at work that was creating deep health inequities — structural racism. There was very little scholarship on the topic.
"When it came to the effects of structural racism, we knew a lot from lived experiences, but we weren't naming it and we certainly weren't measuring it in public health research," Hardeman says.
Hardeman set about exploring the ways racism is built into our society, policies, and institutions and how it undermines Black lives and health. The ultimate goal of her research is to reveal systems of oppression and then to either change them or dismantle them and start anew.
Doing the hard work to create change
"Dr. Hardeman is a real thought-leader in identifying racism as a principal driver of health inequity," says Tim Beebe, professor and head of the Division of Health Policy and Management. "People are now catching up with her. What's incredible about Dr. Hardeman is that she's not content to simply describe a problem, she rolls up her sleeves and works to create change. What's more, she is a gifted and devoted mentor to 20-30 public health professional and graduate students every year."
Hardeman's work covers several areas where racism's pernicious effect is felt, such as maternal and infant health, medical education, and burnout among resident physicians of color.
In a groundbreaking 2016 New England Journal of Medicine article, Hardeman and co-authors identified five ways researchers and clinicians can dismantle structural racism and help achieve health equity in the United States. In June 2020, her commentary "Stolen Breaths" in the same journal, viscerally depicted the suffocating effects of racism on Black lives. Hardeman also designed a curriculum used by M Health Fairview and Mayo Clinic Alix School of Medicine to teach first-year medical students about race and racism.
Hardeman's focus on better health outcomes for Black mothers and babies led to a partnership with Roots Community Birth Center, the first Black-owned birth center in Minnesota, that changed the way maternal support is delivered. Her research described how culturally centered care can save lives and money.
"Roots created a new system and model of care outside of a traditional system that wasn't serving people well," says Hardeman. "Sometimes we can't retrofit equity into an institution steeped in inequity. We have to confront what's not working and build something better."
Hardeman's professorship comes as the School of Public Health is taking a hard look at what it stands for and forging steps to put the work of anti-racism at the center of its mission. Hardeman's work, along with many others at the school, will help educate the entire community and show a better way forward.
As well as being recognized with the singular Blue Cross professorship, Hardeman received the Josie R. Johnson Human Rights and Social Justice Award from the University of Minnesota and the Alice S. Hersh Emerging Leader Award from AcademyHealth. The University named her a McKnight Presidential Fellow in May 2020.
Read more about Rachel Hardeman's work: