Assistant Professor Rachel Hardeman received the Josie R. Johnson Human Rights and Social Justice Award from the University's Office for Equity and Diversity during a ceremony on Nov. 4. The award was established to recognize Dr. Josie R. Johnson's lifelong contributions to human rights and social justice both within and beyond her tenure at the University. The purpose of this award is to honor University faculty, staff, and students who exemplify Dr. Johnson's commitment to creating respectful and inclusive living, learning, and working environments.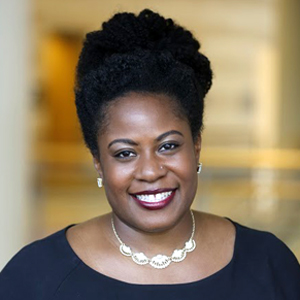 "Dr. Josie Johnson is an icon in our community and she has set the course, laid the foundation and built the framework for those of us committed to social justice," says Hardeman. "For someone like me, who grew up in the communities that Dr. Johnson has worked so hard to cultivate, I can think of no greater honor than to receive the Dr. Josie R. Johnson Human Rights and Social Justice award."
Hardeman is a health equity researcher with a focus on examining a critical and complex determinant of health inequity: racism. Her research has made health inequities due to racism more visible and offered empirical evidence as to the ways that the field of public health might  intervene to eliminate racial inequities in health and well-being. 
Hardeman says that her scholarship, teaching and everyday values are guided by the belief that social justice must be a consistent, daily action where we steadfastly choose to work towards equity. As a professor of public health, Hardeman strives to use her privilege to achieve justice for those on the margins of our society, health care system, and University campus. 
"For all of her adult life, Dr. Josie Johnson has been committed to eliminating racism and disparities, replacing them with equity, social justice, and health for all as a human right," says SPH Dean John Finnegan. "Dr. Hardeman walks in Dr. Johnson's very deep footsteps through the research, teaching, and community engagement she pursues in the School of Public Health.  We are so fortunate to have her on this faculty and I know that Dr. Johnson will be delighted that Rachel is receiving this award."