Every year, Minnesota experiences more than 40 foodborne disease outbreaks. The summer months see scores of Salmonella cases or E. coli poisoning, while winter brings norovirus infections by the droves.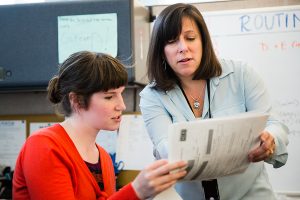 The Minnesota Department of Health (MDH) is continuously collecting information on potential foodborne illness outbreaks via routine surveillance, or when a patient, provider, or institution reports a suspected outbreak.
Investigating the source of those outbreaks takes hundreds of hours, many of which are conducted by Team D ("D" for diarrhea), a group in MDH's Foodborne Diseases Unit made up in large part by School of Public Health students. Team D students are hired to investigate, document, and track outbreaks of foodborne diseases in the state. The program was founded by SPH professor and foodborne disease expert Craig Hedberg in 1996 and has continued to evolve under the direction of Carlota Medus MPH '99, PhD '05, and Kirk Smith for the past 21 years.
Identifying an Outbreak
"This is the true epidemiology experience," says Medus, supervisor of the Foodborne Diseases Unit at MDH. "As part of Team D, you learn everything to do during an outbreak at the state level, and get a complete picture of what happens when you detect an outbreak."
Currently, all of the Foodborne Disease Unit epidemiologists, including Medus, are SPH alumni, and were part of Team D as students before getting hired by MDH. 
"Team D helps with every step of the investigation," says Medus. Initially, a Team D worker will call a patient and take a detailed epidemiological history of their food intake and possible exposures. "They'll ask about everything that happened in the seven days before symptoms began," says Medus.
And, Medus says, Team D members often break open a case. "Since the students are the ones on the phone with patients, they're often the first to notice if a certain restaurant has been mentioned more than once."
Unique Experience
Having the chance to solve the mystery of an outbreak is what attracted Krista Bryz-Gornia to Team D. The first-year epidemiology MPH student heard about the program during a student fair before she started in SPH and knew she wanted to be a part of the team.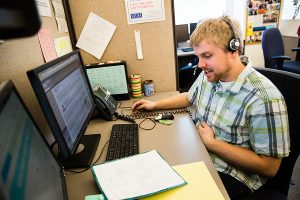 "I love that we get to see an outbreak or a case from beginning to end. It's exciting to talk to other student workers when there's an outbreak and say, 'Did your patient eat at this restaurant?' 'Did they have this symptom?'"
As a fluent Spanish speaker, Bryz-Gornia has conducted bilingual interviews and says MDH has been flexible in letting her balance work and school. Team D staff members work about 20 hours a week from 9 a.m. to 8:30 p.m., often contacting patients in the evening to get information about their illness and symptoms.
"Team D has been a perfect complement to my public health education," Bryz-Gornia says.
In addition to MDH, the program's alumni work across the country in such institutions as the U.S. Department of Agriculture and the CDC.
Andrew Beron, MPH '14, was a Team D member and is now an epidemiologist for the U.S. Virgin Islands Department of Health on the island of St. Croix, where he helps perform Zika surveillance. Beron says his time at Team D was helpful in preparing him for a career in the field.
"Team D is something students at other schools of public health don't get," says Beron. "It helped me build so much confidence as an investigator."
Minnesota Leads the Way
That confidence is what sets Minnesota's SPH apart from other institutions. "By the mid-1990s it became clear that foodborne infections weren't going away," says Hedberg. "What we wanted to do with foodborne disease surveillance was create a student worker team that could participate in surveillance and do routine interviews with individual cases, then the students have both practical experience and the opportunity to work with data they've collected."
Hedberg says other state departments of health and even the CDC have taken note of Team D's efficiency.
"We developed the model, and others have tried to replicate it," says Hedberg. "The partnership between the SPH and MDH is still one of the biggest draws to our school for students who want to work in epidemiology."