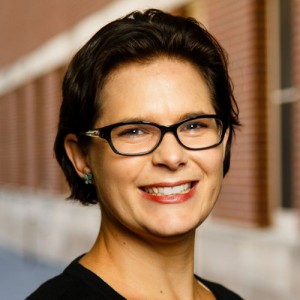 The 2016 HCUP Outstanding Article of the Year Award will be presented by the Agency for Healthcare Research and Quality (AHRQ) and AcademyHealth to School of Public Health Associate Professor Katy Kozhimannil and her colleagues, recognizing the important contributions of their collaborative research to create a valid and useful metric for calculating low-risk cesarean delivery rates and making comparisons across hospitals.
The award recognizes exceptional research conducted using AHRQ's Healthcare Cost and Utilization Project (HCUP) databases in the clinical and health policy arenas.
The paper, "Comparing variation in hospital rates of cesarean delivery among low-risk women using 3 different measures," was published in The American Journal of Obstetrics and Gynecology in February 2016. The research establishes a new low-risk cesarean measure that is clinically validated by high risk obstetricians and can be calculated using administrative data. "It was such a pleasure to collaborate with my clinician colleagues and with the Society for Maternal Fetal Medicine on this project. This work is now informing quality improvement in maternity care in hospitals across the country," says Kozhimannil.
The paper was done in partnership with the Society for Maternal Fetal Medicine's Health Policy Committee, which represents high-risk obstetricians. The group reached out to Kozhimannil following her 2013 publication in Health Affairs that showed tenfold variation in cesarean rates across U.S. hospitals.
The award will be presented at the 2017 AcademyHealth Annual Research Meeting in New Orleans in June.