When the University of Minnesota established an award to honor Regents Professor Emerita Sara Evans, an outstanding scholar and a leader for women's equity and social justice, it had women like SPH Professor Shalini Kulasingam exactly in mind. Kulasingam is the latest person to receive the Sara Evans Faculty Woman Scholar/Leader Award and it recognizes her pioneering, ongoing, and global work to prevent cervical cancer.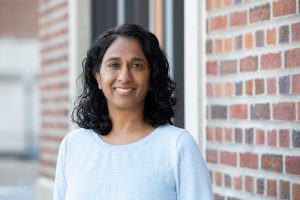 The causal link between human papillomavirus (HPV) and cervical cancer was discovered in the early 1980s, and, as a PhD student in the mid-'90s, Kulasingam's dissertation was one of the first to look at HPV-based screening for women in the U.S. She went on to become a world-renowned researcher who has spent her career focusing on prevention and control of infectious diseases, particularly cervical cancer prevention through HPV vaccination.
Her research has influenced cervical cancer screening, prevention, and control policies in the U.S. and around the world. In Australia, she worked with colleagues to build the case for adoption of the HPV vaccine. As a result, Australia became the first country to approve it. Now Australia is on track to declare that it has eliminated HPV, meaning occurrence is so low that it's considered a rare disease. The governments of Canada and Singapore have also funded her work to help develop their screening policies and Kulasingam has conducted research in China, Ghana, and Tanzania as well as other countries, with the goal of preventing cervical cancer and extending screening to women most in need of prevention.
In the U.S., Kulasingam has been engaged in research that has informed cervical cancer policies of the American Society of Colposcopy and Cervical Pathology, the American Cancer Society, National Institutes of Health, and Centers for Disease Control and Prevention.
Asked about her hopes when it comes to preventing HPV and cervical cancer, Kulasingam says, "My hope is to see a long and sustained approach to screening women who need to be screened, and in that group, I would say HIV positive women are a high risk group. And I hope to see high HPV-vaccine coverage amongst boys and girls to prevent all HPV-related cancers. We need to achieve these goals globally and not just in countries with access to more resources."
Dr. Kulasingam approaches these critical issues from multiple perspectives and she uses a range of methods spanning quantitative and qualitative research and mathematical modeling. Introduced to modeling early in her career, she "fell in love" with the methodology because it was a visual representation of everything she was learning as an epidemiologist and it can show how, why, and when people make decisions and also the costs of prevention strategies. During the pandemic, she used her skills as a mathematical modeler to work with the Minnesota Department of Health on COVID-19 transmission dynamics and contact patterns to help Governor Walz make decisions on how to manage the pandemic.
Along with her research expertise, track record, and advocacy in helping women across the world have healthier lives, the University honored Kulasingam with this award for her dedication to teaching and mentoring.
Read more about Professor Kulasingam: