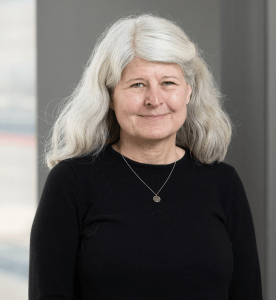 School of Public Health (SPH) Professor Lisa Harnack has conducted some of the world's most innovative nutrition research, creating the scientific evidence for national policies, programs, and practices. To honor her work, the University of Minnesota awarded her membership in the Academy for Excellence in Health Research, its highest recognition of distinction in health-related research.
Harnack is a highly respected nutrition epidemiologist nationally recognized for her work in state-of-the-art nutrition assessment methods and tools. She has played a vital role in contributing to the scientific evidence base that has informed many public health efforts to promote a healthier diet in the U.S. and around the world. Examples of her work include leading the first experimental trial evaluating whether putting calorie information on restaurant menus results in the purchase of lower-calorie meals and being the first to look at soft drink consumption among U.S. children and its potential nutrition consequences, a study conducted before soft drinks were of national concern. Harnack contributed essential data on the nutritional quality of the food in week-end backpack programs for children in low-income families and to the question of whether prohibiting the purchase of high calorie foods with Supplemental Nutrition Assistance Program (SNAP) benefits will improve the nutritional quality of the diets of program participants.
Currently, Harnack's research involves evaluating the nutritional quality of meals delivered to the homes of more than 250,000 rural children as part of the Emergency Meals to You Program; examining ways online grocery stores can support shoppers in buying healthy foods; and helping evaluate a sodium reduction initiative in Nigeria, among her other work.
"Dr. Harnack is a conscientious, inventive public health researcher whose groundbreaking studies have a direct result on improving population health," says Interim Dean Timothy Beebe. "That's the goal of the research we all do. Her remarkable work, which includes directing our school's renowned Nutrition Coordinating Center, is inspiring and I'm extremely glad that the University gave Dr. Harnack this prominent award."
The Nutrition Coordinating Center (NCC) is a world-class resource that provides software and services to support the dietary assessment needs of hundreds of national and international researchers. The NCC's flagship product is its Nutrition Data System for Research (NDSR), the software program researchers use to analyze the nutrient content of the diets of study participants or the nutrient content of  recipes and menus. More than 100 institutions ranging from Johns Hopkins University to NASA use this tool. The NCC team is continually adding nutrients and other food components of research interest to the NCC Food and Nutrient Database, the database that supports NDSR and is licensed for use with other dietary assessment tools, including apps for consumer use in diet tracking. The database has complete nutrient content information for more than 18,000 foods, with values for more than 170 nutrients, nutrient ratios, and other food components provided for these foods. It is the most comprehensive and complete research-grade nutrient database available.
"It is an honor to be inducted into the Academy for Excellence in Health Research," says Harnack. "The research that led to this recognition was made possible by the supportive research environment in the School of Public Health and the many collaborators, staff, and students involved in the work. I feel deep gratitude for this support, and look forward to continuing our work to improve nutrition and health for all."