Pradipta Komanduri, MHA '05, is Chief Operating Officer at University of Colorado Hospital, UC Health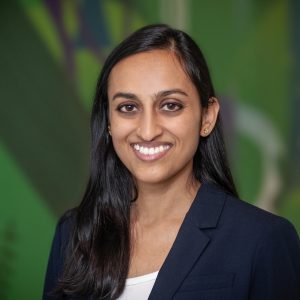 At about five years old, Pradipta Komanduri remembers sitting in the family living room in Duluth, Minnesota eyeing a curious "necklace" around a visitor's neck. It was a stethoscope worn by a family friend, Mala, a physician. "When she let me play with it, I was hooked," Komanduri says. "I vowed to be a doctor one day." Komanduri discovered as a young adult that she could help entire communities be healthier if she pursued another avenue of healthcare.
Komanduri's family immigrated from Chennai, India, to Salt Lake City, Utah in 1983 where her father completed his post-doctoral fellowship in chemical engineering. The family moved to Duluth where he joined the faculty at the University of Minnesota-Duluth. There was a small Indian community in her new home and Komanduri's parents helped other Indian immigrants build their lives in their new country. She remembers her parents driving a van full of college students to Costco for long-awaited shopping trips. Komanduri's family was only slightly more comfortable than their peers. While educated and English-speaking, it was not enough, she says: "Coming to this country is hard, especially as an underrepresented minority. I try never to forget how I grew up."
Komanduri kept this truth in mind as she co-led — with the Vice President of IT at Seattle Children's Hospital – the massive $100 million conversion of the hospital's electronic health record. "One of the strengths of our new system," she says, "is identifying the social determinants of health. There is so much new data available to us now. We want to do our best to use the data in health screening so that we understand our patients and families better and enrich the care that we provide. The COVID pandemic highlighted that there are significant disparities in access to care and outcomes. There is much work to be done to ensure that we are truly opening up healthcare access to all the people who need us."
Komanduri is convinced that the challenges of healthcare will require different ways of thinking paired with the rigor of effective problem solving. She learned the Minnesota Way from Sandra Potthoff and applied it in her internship in 2004 with BJC Healthcare in St. Louis, Missouri. "We worked on standardizing procedures for surgical site marking to reduce errors across the health system," she says. "To this day, I use the Problem-Solving Method, even if I have to quickly think through a problem. The method gives me a framework, even if it's done swiftly."
Komanduri's Problem-Solving education taught her never to overlook stakeholders. "If there is a tough decision to be made," she says, "make sure that your table is inclusive with all the right people. It's about engaging with people in a way that is human-to-human by asking, 'How do we work on this problem together?'
"Our work must revolve around listening to our clinical partners and key stakeholders and exploring what are the best pathways to care for our patients. We must be flexible, keep an open mind and be a continuous learner.
"Lastly," she says, "we must stay close to our patients and answer this fundamental question: What is the right thing to do for them?"