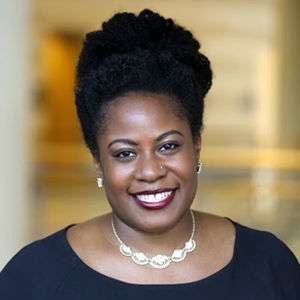 Statistics show that medical students experience more depression, anxiety, and substance abuse than their peers in the general population — and the risk is even greater for minority students. Now, a new study reveals that a negative school diversity climate increases the risk of depression in medical students. Lead author and Assistant Professor Rachel Hardeman says the findings have implications not only for the mental health of students, but also point to the possible roots of negative bias and structural racism in American health care.
The study was published in the Journal of the National Medical Association.
Hardeman surveyed a cohort of approximately 5,000 medical school students during their first and fourth years of training. The students answered questions measuring their self-reported depressive symptoms and perceptions of their exposure to negative role modeling by medical educators; frequency of witnessing discrimination in school; and their school's racial climate.
"We found that 64 percent of students reported some exposure to a negative racial climate at their school. Eighty-one percent of students reported witnessing discrimination toward other students, and 94 percent reported witnessing negative role modeling," says Hardeman. "This tells a really important and concerning story and made us want to look at how this impacts students' wellbeing and risk of depression."
The study found that a negative diversity climate places minority students, and also all medical students, at greater risk for depression. "It's an example of when something negative exists, we all suffer because of it, and fixing it will help both the students who feel it most and everyone in general," says Hardeman.
The researchers suspect a main contributor to a poor diversity and medical school climate is what's known as the "hidden curriculum," which are the values and cultural norms that are inexplicitly taught to students through role modeling by instructors and mentors. "This hidden curriculum may shape professional identity and feed into stereotypes and biases for physicians, and we have to understand how it plays into what a student is learning about being a doctor," says Hardeman.
Hardeman advises that medical schools protect the mental health of their students by fostering institutions that are equitable and inclusive. She recommends that schools provide students with safe avenues to report distressing events, and also make sure that their wellbeing programs promote a positive diversity climate.
Hardeman says the results also provide an important direction for public health.
"We suspect we would find similar findings across all sectors, such as in health systems," says Hardeman. "We have to reevaluate the norms and values we're conveying, and have minorities at the decision-making table so we can change the way we do business."
Hardeman is now building on this research by looking at the depression, anxiety, and overall wellbeing trajectory of the surveyed students, who are now second year residents, to examine the racial climate and its influence in residency programs.