Monoclonal antibodies are a powerful, promising treatment for COVID-19 and its variants. The outpatient infusion treatments are particularly effective at treating high-risk patients when taken early in an infection. But, the medications are also new and only exist in limited supply, which means they could become scarce if demand for them rises. To make it equitable and easy for Minnesotans to access the therapies, University of Minnesota experts and the Minnesota Department of Health (MDH) partnered to create the Minnesota Resource Allocation Platform (MNRAP). MNRAP is a system designed to quickly connect patients and providers with hospitals, clinics, and centers offering monoclonal antibodies and other treatments when supplies for the drugs are high or do it fairly when they are low. Only one other state — Colorado — has a similar system.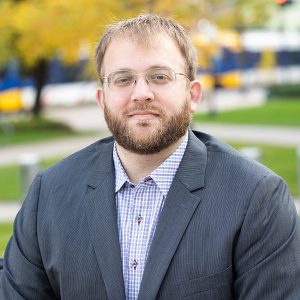 The project was led by Principal Investigator and School of Public Health researcher JP Leider. Leider is a member of the Minnesota COVID Ethics Collaborative (MCEC), a joint venture between the University, MDH, and the Minnesota Hospital Association.
"Last November, we all recognized that with the emergency authorization for bamlanivimab and the Regeneron monoclonal antibody cocktail that President Trump received, there could be substantially more demand than supply for these and future drugs," says Leider. 
Initially, qualifying patients received access to the drugs if their own health systems stocked them or by shopping around to other facilities. The situation meant health systems with the medications might inadvertently privilege their own patients and could lead to inequitable access to the drugs.
"MCEC proposed creating a central platform that MDH would run to help connect people wanting the drugs with providers that have it. We also wanted to create a fair, lottery-based system for allocating the drugs if there wasn't enough for everyone who needs it," says Leider.
To create the platform, Leider worked with experts from MDH and the University's Minnesota Supercomputing Institute, Health Sciences Technology Applications Group, and Center for Bioethics. Over the course of ten weeks, the group worked through difficult mathematical, technical, and ethical issues to create the system, which soft-launched in early February of 2021.
The system can be accessed by either patients or their providers, and it screens them for eligibility to receive treatments. In times when treatments are in short supply, the system will use a weighted lottery that factors in priority groups set by MDH. If a patient passes the screening process and is selected for referral, the system will then send their information to a chosen facility for final medical review and treatment. 
Medical facilities aren't required to participate in MNRAP, but a majority of them do because the system streamlines access for patients, and reduces much of the reporting work required to treat them. 
Right now, demand for treatment through MNRAP hasn't exceeded supply, so all clinically eligible patients are finding appointments. However, if infection rates continue to increase due to spreading COVID-19 virus variants and a scarcity of appointments arises, a lottery will help make access as fair as possible. Even if usage rates are modest, Leider says the effort will have been worth it.
"In a way, the best case scenario is we end up referring a few people a day who wouldn't have otherwise gotten access to these potentially life-saving treatments," says Leider. "Even if that's all we do, it's still a win. But it is comforting to know that if demand for these monoclonals exceeds appointment availability, MNRAP is ready to make sure everyone interested has a fair shot."