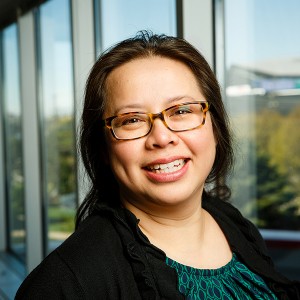 Associate Professor Ruby Nguyen will join two new consortium grants to continue tracking the effects of endocrine-disrupting chemicals called phthalates in mothers and their children.
Nguyen has been studying phthalates, which are a group of chemicals that make plastics pliable, in The Infant Development and Environment Study (TIDES). The TIDES cohort study of Minnesota mothers and babies found that the presence of phthalates in pregnant women can lead to broad changes in young children — especially boys.
The grants are part of the NIH's Environmental influences on Child Health Outcomes (ECHO), a major program to investigate how exposure to a range of environmental factors in early development — from conception through early childhood — influences the health of children and adolescents across the U.S.
"Being a part of ECHO provides us an opportunity to be a member of a huge U.S.-based initiative to better understand American children, all while representing Minnesota kids," says Nguyen
The inclusion of Nguyen's study in the ECHO program now effectively extends the kids and phthalates research up to an additional seven years, allowing her to see how exposures play out into early adolescence.
According to Nguyen, participation in ECHO also opens up the range of the research through collaboration with other active studies in the program.
"We can now broaden the scope of examination of phthalates from only gender-specific, neurobehavioral outcomes to now include child growth and development by working with New York University, and respiratory outcomes with the University of Washington," says Nguyen.
According to Nguyen, the net benefit of conducting research within ECHO is an increase in the generalizability of each study's results because they will now include data from children across the nation — including kids from Minnesota.
"Given the projected magnitude of ECHO, our research will now have even greater potential to positively influence children's health in the U.S.," says Nguyen.