Assistant Professor Jaime Slaughter-Acey has received a Matilda White Riley Early Stage Investigator Award from the National Institutes of Health's Office of Behavioral and Social Science Research for her work investigating racism in maternal health. The award recognizes emerging scientists whose research reflects Riley's vision of research excellence in health-related behavioral and social sciences. Slaughter-Acey earned the honor for her study "Skin tone matters: Racial microaggression and delayed prenatal care."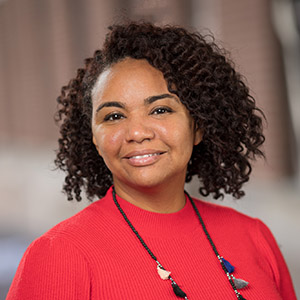 Slaughter-Acey is a researcher in the Division of Epidemiology and Community Health where she studies the social meaning of race and skin color and how they intersect with other aspects of social identity to affect maternal and child health. The goal of her research is to develop new interdisciplinary community-based solutions that build healthier and more equitable communities for all.
"I always knew the work I'm doing on racism and skin-tone bias was important to understanding the maternal and perinatal health of Black Americans," says Slaughter-Acey. "Often there are barriers and hurdles that make you second guess your career path. Receiving this honor reinforces the notion that I can be successful and pursue health-related behavioral and social science research that incorporates antiracism concepts and benefits the field of science."
Slaughter-Acey and the other award honorees will discuss their research during the NIH Matilda White Riley Behavioral and Social Sciences Honors to be held online on Mon, June 8.