Senka Hadzic is a 2008 graduate of the public health administration and policy program and currently works as a project facilitator at the Institute for Clinical Systems Improvement (ICSI). In this role, Hadzic facilitates evidence, measurement, and data analysis education and support for the MN Health Collaborative. The MN Health Collaborative is a group of influential leaders from 16 health care organizations working on thorny issues facing our communities, such as mental health care and access, suicide prevention and intervention, and the opioid epidemic. Hadzic volunteers on the SPH Alumni Society's Opioid Work Group and has mentored SPH students.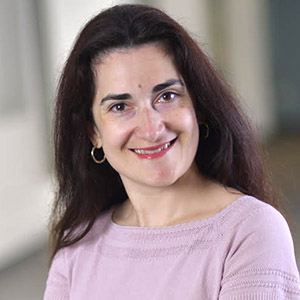 What is your favorite part of volunteering with SPH?
My favorite part of volunteering with SPH is meeting students, reconnecting with other alumni, and remaining involved with the school so I can share the importance of studying public health. SPH gave me the skills that set me up for success in the professional world. In return, I want to give back by being a resource that students can reach out to. Additionally, I enjoy participating in the school's activities that promote the school and public health.
I am also grateful to serve on the Opioid Work Group that is working to address public health and the opioid crisis. As a professional working on opioid related projects, I am able to bring my knowledge on this topic to inform the work of the group.
Why did you decide to volunteer with SPH?
To give back to the school that has given me the skills to succeed in my profession.
What would you tell someone who is thinking about volunteering with SPH?
I find volunteering with SPH to be a rewarding experience. As volunteers, we get to meet and develop students, and participate in activities that promote the school and the mission of public health.
What advice would you offer to your fellow alums?
I would encourage everyone to volunteer or get engaged in any way possible with the school.
Nominate an Alum for our Volunteer Spotlight Series
The School of Public Health boasts extraordinary volunteers who help advance our mission and values. Our volunteers serve on boards and committees, mentor current students, serve as guest lecturers, and so much more. Our volunteer spotlight series highlights the incredible contributions these individuals are making to SPH. Know an amazing volunteer at SPH? Submit their name and brief description of why they should be highlighted to 
sph-alum@

umn.edu
 to be considered for a future spotlight.