Originally published in the April 2023 issue of the Notes on Antiracism, Justice, and Equity newsletter.
We are excited to welcome guest author Anna Lifson for this month's column. Anna works in the UMN Women's Center and recently co-facilitated our workshop on Antiracist Supervision. This essay is aimed at giving our white identified community members practical advice on being antiracist.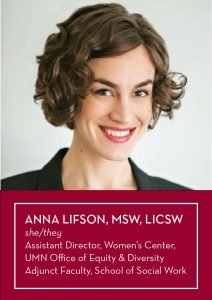 As a white woman from the upper Midwest, I was socialized to be "nice," to avoid conflict, and to prioritize comfort in interpersonal dynamics. Though I was raised in a politically liberal context that emphasized peace and justice, I also grew up in a place mired in deep racial inequities and pervasive racial hostilities. Through many instances of being held accountable by Black, Indigenous, and people of color (BIPOC) folks, and through my own ongoing reflection and growth (via resources like talk therapy, nervous system regulation tools, and white accountability/caucus spaces), I now fully recognize that I — and all white people — must develop the skills and tools to directly address and navigate conflict. There is no meaningful antiracism work without white people's willingness to risk discomfort by both 1) using direct communication skills to interrupt and address the harm that we witness; and 2) using grounding tools to stay open as we face accountability for the harm that we cause. 
I've had to "walk this talk" throughout my time as a student, staff, and faculty member here at the University of Minnesota. I wasn't comfortable when a Black peer in graduate school told me that my intensive copy-editing of written work by BIPOC group members was experienced as racist. I wasn't comfortable when I shared with a white facilitator that their ongoing references to the racial justice uprisings of May 2020 as "riots" was a manifestation of racism. I wasn't comfortable when my colleagues of color pointed out that when I didn't keep up with my assigned turns in our office kitchen cleaning rotation (thus defaulting that labor to them), I was perpetuating common racialized dynamics of administrative and domestic labor. I wasn't comfortable when I informed a white colleague that asking people "where are you from?" can be experienced as a racist/xenophobic microaggression regardless of any innocuous intent. And my comfort wasn't the priority (or the point!) in any of these interactions. My responsibility is to stay present and humble anytime I give and receive feedback about manifestations of racism that I witness and perpetuate.
The profound harm that BIPOC folks experience from systemic and interpersonal racism far eclipses the temporary discomfort that we white people feel in these moments of accountability and conflict. The absolute least that those of us with white privilege can do is commit to taking a deep breath, grounding our bodies and emotions, listening without defensiveness, and working to act on the feedback that we receive. More information, resources and tools on how to do this are available via the recent Antiracist Supervision training I was invited to co-facilitate with SPH Diversity, Equity, and Inclusion DEI Director Lauren Jones.
Sign up to receive the monthly Notes on Antiracism, Justice, and Equity newsletter.