Academic Programs & Courses
Interdisciplinary Graduate Minor
Register for the Gerontology Minor at OneStop.
As the population continues to age, the demand for graduates with knowledge of the biopsychosocial opportunities and challenges of aging has similarly grown. The Gerontology Minor provides an opportunity to enrich graduate studies with an interdisciplinary program focused on aging. The program is tailored in advance with consultation between the student and the Director of Graduate Studies (Rajean Moone, PhD).
Masters students are required to take a minimum of 8 credits. Doctoral students are required to take a minimum of 12 credits. All Minor students must complete the GERO 5105/PubH 6883: Multidisciplinary Perspectives on Aging (2 cr) and take at least one course in each of three following Cores (or other relevant courses as approved by the Director of Graduate Studies):
Behavioral/Social Science Core
GERO 5117/PubH 6817: Adult Development & Aging
GERO 5103/PubH 6882: Sociology of Aging
Geroscience and Geriatrics
RSC 5814: Age, Exercise and Rehabilitation
HSM 6584: LTC Health Care and Medical Needs
Policy and Long-Term Care
SW 8805: Aging and Disability Policy
PubH 6570: Post Acute and Long-Term Care Quality
For a regularly updated list of elective courses in aging at the University of Minnesota, please see the Programs and Courses in Aging section above.
Learn more about the curriculum and process of formally declaring the Gerontology Minor
If you have any questions, please do not hesitate to contact the Director of Graduate Studies and the Associate Director of Education, Dr. Rajean Moone (moon0060@umn.edu).
Age-Friendly Care and Education Collection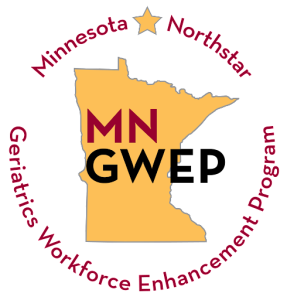 The Minnesota Northstar Geriatric Workforce Enhancement Program's Age-Friendly Care and Education Collection includes resources for educators, health professionals, and students interested in improving care for older adults.