Sophie Zielke is a first-year Public Health Administration & Policy MPH student at the University of Minnesota School of Public Health. Sophie has centered her work on the intersection of economics and equity, with a focus on vaccine equity. Learn more about Sophie by reading her responses to the questions below.
Tell us a little about yourself. Where did you grow up? Where did you attend undergrad?
[Sophie] I grew up near Prior Lake, MN, and I did my undergrad here at the U of M. I majored in Applied Economics through the College of Food, Agricultural and Natural Resource Sciences (CFANS). My undergrad experience was related to public health because I learned a lot about coding and systems management, food insecurity, and environmental issues related to health.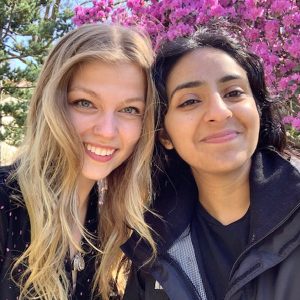 How did you become interested in public health?
[Sophie] Public health has been an ongoing interest for me since I was 16. When I was a sophomore in high school I went to a medical camp because at that time I wanted to be a medical doctor. I was fascinated with the healthcare system. At the camp, I attended a one-hour session on public health and it all just clicked! I realized how important it is to think about prevention and not just treatment. After that, I always kept public health in the back of my mind.
Then, I met Marali Singaraju when we worked on a Model UN case together and we became obsessed with researching public health. She deserves a lot of credit for getting me into public health. Once I decided I was going to pursue public health, I met with one of my economics professors from CFANS, Elizabeth Davis. At the time, she was doing research related to maternal and child health. She was really responsive and helped me figure out what my options were if I wanted to start a career in public health.

What specific area of research in public health do you care the most about and why? [Sophie] I'm interested in maternal & child health and the health of aging populations. It's kind of funny because they're sort of opposites. I've worked as a senior caretaker at New Perspectives Senior Living and that's really made an impact on me and is part of the reason why I care so much about aging populations.
How would you like to help address or explore these topics?
[Sophie] Recently, I worked on the Vaccine Equity Project through the International Working Group for Health Systems Strengthening (IWG). My main responsibility was focused on identifying the economic impact of the project. Our team met with many economic and public health professionals. It was a great opportunity to blend economics and public health together and to apply our work towards a real issue. I've learned that equity and economics are not always in opposition. 
Equity is rooted in shared humanity. The COVID-19 pandemic, though it has had vastly different impacts based on personal resources and lived experiences, has reminded us that we're all connected as humans. Vaccine equity matters, not only for ending the pandemic and preventing new variants of COVID from spreading, but also in taking back our human ability to spread health and goodness to each other, rather than harm and illness.
Are you currently involved in any public health research or professional work?
[Sophie] I currently work as a communications specialist at the Institute for Global Cancer Prevention Research (IGCPR). IGCPR is focused on three different causes of cancer – cancer caused by tobacco, environmental causes of cancer, and cancer caused by infectious diseases. I'm very excited about the potential of the institute. It's exciting to be part of this new endeavor.
Why did you choose to come to the U of M School of Public Health?
[Sophie] I knew it was a great program from when I was in undergrad at the U of M. I already knew some of the professors and had made friends who were also going into public health so I had a decent idea of what grad school would be like. I had some good guides to support me in my decision and it made a lot of logistical sense. It also offers a good mix of in-person and online courses. 
What are the reasons why you chose your program? What do you like about it?
[Sophie] I chose the Public Health Administration & Policy MPH program because I believe it will complement my undergraduate degree in Economics. There are a lot of people who think doing a cost benefit analysis, putting together strategic planning, analyzing financials, and stuff like that is really boring, but I find it fascinating. All of these things were built into my undergrad degree and they have applied perfectly to this program. 
What has been your favorite class so far?
[Sophie] My favorite class so far is the Healthcare System and Public Health (PUBH 6724) course taught by Associate Professor Ezra Golberstein. It's my favorite because it's the most comprehensive of all my courses. The course definitely helps students understand the healthcare system as a whole, no matter what job you pursue within healthcare. 
In what ways is the school a good fit for you?
[Sophie] Looking back on the last semester, it's been a good fit because I feel like I've learned a ton and I've been able to feasibly learn more than any previous semester because it's been well planned out. Starting grad school during COVID was stressful but hearing how enthusiastic my peers are about improving public health and healthcare has inspired me. I am so impressed by my peers and classmates! 
What do you like about being in Minnesota?
[Sophie] There are so many things! I'm really close to my family and friends who live here so that gives me a strong sense of community which I have appreciated during the pandemic. There are also lots of things to do and I love the changing seasons. The students and professors here are very committed to caring for each other and I think that's unique to the University of Minnesota.