Master of Public Health Public Health Administration & Policy (PHAP) student Shehrose Charania is a first-generation college student and daughter of Pakistani immigrants who wants to improve healthcare for underserved communities.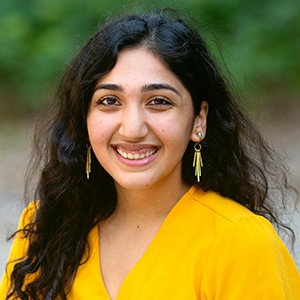 "I want to be a trailblazer of change in public health and healthcare so that I can make a difference in the lives of communities, including those of people from other cultures," said Charania.
For this and a multitude of other reasons, Charania was honored with the 2022 David A. Winston Health Policy Scholarship from the David A. Winston Fellowship. The scholarship program recognizes excellence and achievement for students in master's degree programs in health administration, health policy, and public health by providing up to twenty $10,000 scholarships per year. Winston Scholars also attend a one-day symposium on health policy in Washington, DC.

"I have a shared vision and mission with David A. Winston, which is the belief that the diversity of thought and perspectives is of utmost importance when it comes to improving health outcomes," said Charania, who is advised by Associate Professor Rebecca Wurtz and Assistant Professor Manka Nkimbeng.
Part of what drives Charania is her belief that the voices of communities must to be heard in order for their needs to be understood and met."As a woman of color, I want to work with underserved communities to empower their voices and be an advocate to change the healthcare system," said Charania. "The story of the sacrifices my parents made to bring me to this country and my own life experiences show that our own personal narratives are of immense importance when it comes to change-making."
According to Charania, those stories can help reveal and fill the gaps between the care various groups need and what the healthcare system may currently provide. 
"I have seen these gaps in my own experience where my own mother experienced a medical error because she spoke limited English and experienced cultural barriers in healthcare. Now, my own immigrant family has a lack of trust in the hospital system," said Charania. "I am determined to do the challenging work of developing a strategy of improving the patient and provider experience through an antiracist, upstreamist, and public health lens."
Charania says her degree is giving her the foundation she needs to work towards health equity by equipping her with skills of policy-writing, quality improvement, and management. She is already translating that learning into action by working with Minnesota Legislature Representative Kaohly Her (64A) to create legislation to disaggregate health data, such as race and ethnicity, so that health issues in underserved communities can be more easily detected to reduce care disparities.