More than 6 million people in the U.S. have Alzheimer's disease and this number is projected to rise to nearly 13 million by 2050. Many more have Alzheimer's-related dementia. There is no cure or effective treatment for Alzheimer's and while science works on finding ways to stop the disease, millions of people are caring for those with Alzhiemer's and searching for the best ways to support them.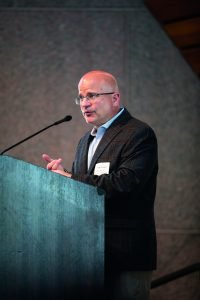 Joseph Gaugler, the School of Public Health's Robert L. Kane Endowed Chair in Long-Term Care and Aging, dedicates his time to understanding how and why certain approaches are effective in improving the well-being of those living with dementia and the people and communities who care for them. To honor his national and international scholarship around the multiple challenges of dementia care, his determination to make life better for people as they age, and his drive to engage communities, Gaugler was awarded the title Distinguished McKnight University Professor, one of the University of Minnesota's highest honors. He will hold the title for as long as he remains at the University and his name will be added to the Scholar's Walk.
"Having Joe at SPH and leading our work on aging has pushed our school to the forefront of innovative, community-engaged care for those with dementia," says SPH Interim Dean Timothy Beebe. "He works tirelessly to advance scholarship around aging and to build a strong base of forward-thinking colleagues to design, evaluate, and implement better ways to help people with dementia and their families. I'm so pleased that the University recognized his much-needed and tremendous work." 
When Gaugler came to the School of Public Health (SPH) in 2018 from the School of Nursing, a major objective was for him to redesign and relaunch the Center on Aging, which had ceased to function due to the death of its prior director, Professor Robert Kane. SPH formally launched the renamed Center for Healthy Aging and Innovation (CHAI) in September 2020 with Gaugler as its director. One of the cornerstones of CHAI is its inclusive scholarship and community engagement. As of January 2023, the center has more than 150 affiliated faculty and staff members from 63 University departments, schools, and institutes; 59 graduate and professional students; and 98 community partners. 
It's All About Community
CHAI's focus on community led to it establishing a community advisory board that has identified community-driven scholarly priorities for the center. And Gaugler gets into the community to learn first-hand about people's challenges. Among his activities is a Minnesota-wide tour to engage residents of every county around dementia and dementia care. To date, he has visited 15 of the state's 87 counties and continues to do so on a monthly basis. In 2023, Gaugler will convene the 15th annual community education event called "Caring for People with Memory Loss." This conference offers tools, resources, and information to help people care for individuals with memory loss. Over its history, it has served thousands of families, people living with dementia, and professionals.
"Perhaps more than any other reason, what animates my and my team's work in dementia care innovation are the stories and experiences of families themselves," says Gaugler. "Collaborating with individuals living with dementia, those who care for them, and their communities has convinced me of the essential need to fuse the challenges, concerns, and resources of our communities with the science of dementia care." 
Gaugler is tireless in his drive to improve care for aging people and those with dementia. In September 2020, the Centers for Disease Control and Prevention recognized his work and awarded him and his colleagues the BOLD (Building our Largest Dementia Infrastructure) Public Health Center of Excellence on Dementia Caregiving, which he directs. One of three national BOLD centers, its primary objective is to serve as a resource to state, local, and tribal public health organizations to support dementia caregivers.
"It is a great honor and privilege for me to live in this state, to work regularly with amazing Minnesotans on a day-to-day basis, and to represent the University of Minnesota when addressing the opportunities and challenges of equitable dementia care for all," says Gaugler. "The Distinguished McKnight Professorship is a wonderful recognition that honors my and my team's accomplishments to date, but also a reminder that the work will and must continue."