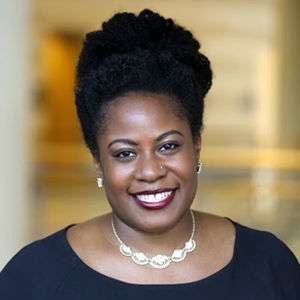 School of Public Health researchers Rachel Hardeman and Katy Kozhimannil are launching a new program focused on understanding ways to reduce racial inequities in birth outcomes across the United States. The project is operating in partnership with Rebecca Polston, founder of Roots Community Birth Center, and uses an innovative research model fostered by Interdisciplinary Research Leaders, a new Robert Wood Johnson Foundation program housed at the School of Public Health.
In Minnesota and across the U.S., African-American women and infants are at least twice as likely as white women and infants to die around the time of childbirth. Receiving health care and social, emotional and informational support during pregnancy is important for the health and well-being of mothers and their babies. However, for African-American women, prenatal care often does little to counteract the effects of racism on women's day-to-day experiences and their encounters with the health care system during pregnancy.
"The profound impact of racism on health can be seen right from the start of life, with racial inequities in birth outcomes that have been documented for decades," says Hardeman, principal investigator for the project. "We are excited to understand the potential benefits of a unique model of prenatal care that is grounded in culture and community."
The team will study and document best practices for culturally centered prenatal care at Roots Community Birth Center, Minnesota's first and only African-American-owned birth center.
"It is my goal to serve the community and the next generation of mothers and families, and to create access to quality midwifery," says Polston. "As the only African-American certified professional midwife in Minnesota, I have dedicated my work and practice to improving the disparate birth outcomes experienced by African-American families."
Hardeman, Kozhimannil, and Polston will measure potential improvements in breastfeeding, family dynamics and empowerment, and levels of stress during pregnancy. Hardeman will lead the team's investigation into the ways community-connected and culturally centered care can disrupt well-worn pathways between social determinants and birth outcomes that have produced disparate outcomes for African-American infants for more than a century.
"This unique model of research and the focus on a culture of health is an exciting opportunity for us," says Hardeman. "Research can't be done effectively without community voices, and all too often those voices are not at the table. In this program, we are bringing community partners directly into the project design and addressing urgent issues in real time."
Interdisciplinary Research Leaders is one of four new leadership development programs launched this year by the Robert Wood Johnson Foundation that represent a four-year, multimillion dollar investment. The programs join five existing leadership programs in advancing the foundation's legacy of supporting the development and diversity of leaders impacting health.