After graduating with a finance degree from Brigham Young University, Brent Parsons (MHA '15) worked in patient billing at Intermountain Healthcare in Salt Lake City. But he needed more. "I didn't feel like I was close enough to the patients and truly making a difference in the care they received."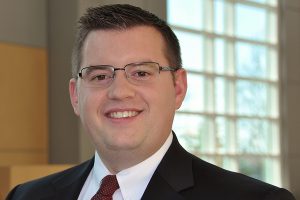 He set his sights on health care administration and enrolled in the School of Public Health's Master of Healthcare Administration (MHA) program. "I looked at the program's graduates and saw that I could have a national network to call on later in life," says Parsons.
Now, two years later, he's making a difference for patients as CEO of Bluffton Regional Medical Center in Indiana.
Days after graduating in spring 2015, Parsons went to work for Lutheran Hospital, the flagship hospital of the Lutheran Health Network in Indiana. There, he was put on high profile projects and moved quickly from administrative specialist to assistant CEO.
After a year, he was hand-picked to serve as interim CEO of Lutheran Health Network's Bluffton Regional Medical Center in Bluffton, a rural Indiana town of about 10,000. In January 2017, he was named the permanent CEO of the 79-bed hospital.
In the role, he's influencing patient care in the ways he wanted. "In administration you have the ability to make large-scale change. I can help implement policies and processes that can have a positive impact on the quality of care patients receive and also the satisfaction of our employees and physicians," says Parsons.
"The hospital is such a vital and emotional part of a community and it's an honor to be entrusted with the care of our community," he says.