Associate Professor Helen Parsons has received a 2022 ResearcHERS™ Rising Star Award from the American Cancer Society. ResearcHERS™: Women Fighting Cancer is a movement that engages women to raise funds to directly support cancer researchers — women cancer researchers. Parsons and the other winners were recognized publicly at the 2022 ResearcHERS 3rd Annual Luncheon & Awards on Thu, May 26 at the University's McNamara Alumni Center.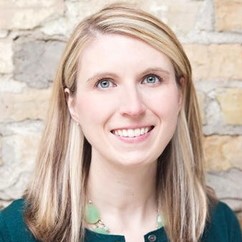 "Like many of us, my family has been directly impacted by cancer and my hope is to use that experience and those of other patients to help improve outcomes for those now facing the diagnosis," said Parsons. "My goal is to advance research that addresses underlying barriers to receiving high-quality cancer care by improving access to supportive care resources, such as transportation, insurance, social support, for our most vulnerable populations."  
Parsons' work focuses on developing strong interdisciplinary collaborations among clinicians, supportive care teams (e.g., social work, care coordination, psychology), and methodologists to create innovative data sources to help the field understand how policies and programs can address disparities in social determinants of health for cancer survivors. Parsons' research has appeared in more than 80 publications, including the Journal of Clinical Oncology, JAMA Oncology, and Cancer, and has been recognized by numerous awards, including being inducted into the Order of the Eastern Star Scholar.  
"One area of my research asks how we can improve the quality of cancer treatment and survivorship care for young adults diagnosed with cancer," said Parsons. "This is important because this age group has not experienced the improved survival seen in other age groups over the past two decades."
Parsons is currently a member of a research collaborative working on the Adolescent and Young Adult Health Outcomes and Patient Experience Study (AYA HOPE), the largest study of AYA cancer survivors to date. Through the study, Parsons has identified a significant need to find ways to reduce barriers to using recommended surveillance and medical care in the young adult cancer population. Specifically, the researchers have found that uninsured survivors reported lower healthcare use, with more than two-thirds of uninsured survivors having no personal provider or routine medical care. Most importantly, they identified that inadequate health insurance led to significant financial problems ranging from having to pay for unreimbursed drugs, medical equipment, or infertility services to missing work or being unable to obtain employment. 
Congratulations to Associate Professor Helen Parsons on her award!