Thousands of biological mechanisms are at work as a baby grows in its mother's womb. Some follow a genetically determined path and result in things like eye color and whether our hair is curly or straight. But other mechanisms are affected by environmental factors and their impact can show up later in life in such areas as play behaviors, learning disorders, and fertility.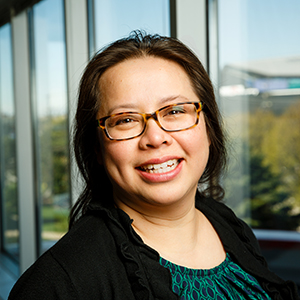 But what predicts these adverse outcomes? And how can they be prevented? Associate Professor Ruby Nguyen, a women's health and reproductive health researcher at the School of Public Health, is working to answer those questions by studying chemicals found in common products and how they can alter hormone-related levels in expectant mothers and affect their child's development.
"We are looking at subtle differences in hormone levels that would change the population norm," says Nguyen who is researching several outcomes. "Our work will bring together biological outcomes and typical education outcomes including IQ and learning disabilities, to see if there is a correlation between them."
Nguyen is specifically studying phthalates, an endocrine-disrupting chemical found in hundreds of consumer products such as plastics, canned foods, and shampoos. The answer so far: the higher the phthalate levels in mothers, the more hormone-related differences seen in their children, particularly boys. These differences are thought to later affect everything from gender-related play to biological outcomes like blood pressure, which a new study will measure.
The ultimate goal is a policy change to erase this chemical from our society. "We have seen decreases in phthalate consumption and absorption, but we're still seeing the effects of the chemical on development, so it's almost as if no level is acceptable," Nguyen says. "These chemicals can change our biological processes and in pregnancy, so much must go just right."