You've heard the saying "a chip off the old block," in regards to looks and personalities but researchers now want to know if that remains true when it comes to generational health outcomes. A new study from the School of Public Health reveals a mother's health significantly influences her daughter's self-assessed health.
Lead researcher Tetyana Shippee, an assistant professor in the School of Public Health, focuses her work on social gerontology and health disparities. Her research was motivated by her desire to examine the intergenerational transmission of health over time and how this process may differ by race/ethnicity.
The study utilized the National Longitudinal Surveys (NLS) in which Shippee merged two databases, one of young women and one of mature women. These women were asked similar questions regarding long-term risk factors, socioeconomic status and sources of resilience over the span of 36 years. After compiling these data sets, Shippee was able to identify 1,848 mother-daughter pairs, allowing her to analyze how health was affected intergenerationally.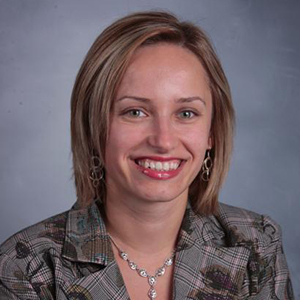 "This study is the first of its kind. No other study has looked at such a large pool of mother-daughter pairs," says Shippee. "A better understanding of how social gradients in women's health influence disparities in the next generation may lead to new public health opportunities for disparity reduction."
Shippee's main takeaway was the affirmation that a mother's health was indeed a predictor of her daughter's self-rated health over time. Self-rated health has widely been used as an overall marker of well-being and a predictor of mortality. Other key findings include:
Even as the daughter's reached middle age themselves, their mother's health still significantly influenced their self-rated health.
However, the relationship between mothers' and daughters' health became  non-significant when Shippee controlled for daughter's own socioeconomic status (income, education, and occupational prestige). These findings show that much of the negative health transmission is due to socioeconomic resources (or lack thereof).
Mother's' own socioeconomic status exerted a direct effect on daughter's self-rated health (e.g., daughters of mothers with higher education had better self-rated health, even when controlling for other factors).
Education was the socioeconomic factor that had the largest effect. Mother's education had a direct effect on daughter's self-rated health over time, even when controlling for daughter's own education. This finding demonstrates the value of education across generations, and not just for daughter's own achievements, but directly for her health.
There were  persistent racial differences in self-rated health over time and across generations. African-American daughters reported lower self-rated health and experienced more decline in their health over time as compared with white daughters. This relationship persisted even when controlling for socioeconomic status.
"Despite increased income and education within the African-American population, disparities in health still remain. This is likely  due to pervasive effects of discrimination and other structural inequalities in our society," says Shippee.
Shippee's findings show that inequalities are not only persistent in our society, but that they often amplify across generations. The findings give further support that health disparities do not just start and end within one lifetime.
"While existing research shows that early or ongoing disadvantage in one's lifetime may compound to result in  premature mortality and health disparities, it does not adequately address family history and generational effects in this process," says Shippee. "Our findings could inform health-related interventions that are sensitive to the socially and generationally emergent nature of health."
~ This post was originally published on the Academic Health Center's "Health Talk" blog