MINNEAPOLIS/ST. PAUL (04/14/21) — Black women in the U.S. are twice as likely to experience a preterm birth, a low birth weight infant, or the death of a child before age one compared to white women. This racialized pattern of adverse reproductive outcomes has endured for as far back as scientists are able to study. The intractability of this problem suggests the root cause is structural racism — the ways in which societies foster discrimination by reinforcing inequitable systems that in turn reinforce discriminatory beliefs, values, and distribution of resources. University of Minnesota School of Public Health Associate Professor Rachel Hardeman has launched a five-year study to investigate the association between a specific, pervasive form of structural racism — racialized police violence — and the occurrence of preterm birth (PTB) and low birth weight (LBW) among Black infants.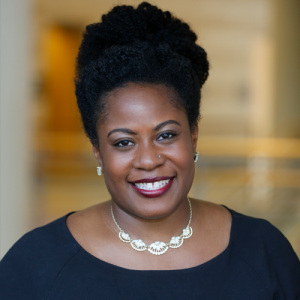 This first-of-its-kind study is funded by a $1.8 million grant from the National Institute of Child Health and Human Development.
Hardeman is the school's Blue Cross Endowed Professor of Health and Racial Equity in the Division of Health Policy and Management and founding director of the Center for Antiracism Research for Health Equity. For this study, Hardeman is partnering with the University's Minnesota Population Center, where she leads the organization's structural racism research arm.
"My earlier research assessing racialized police violence as a form of stress for Black women of reproductive age demonstrates that the unpredictable but persistent possibility of racialized police violence in one's community is a debilitating burden disproportionately borne by Black women and their families," says Hardeman. "I recently found that simply living in a neighborhood that experiences high levels of police contact is significantly associated with PTB for Black and white women."
Hardeman's new study has three aims:
Quantify the risk of PTB and LBW related to spatial and social proximity to the killing of a Black man by police and the ensuing civil unrest.

Researchers will examine records from the Minnesota Department of Health to assess if Black women experienced worse birth outcomes following the 2016 killing of Philando Castile by police in Falcon Heights, MN, and the subsequent civil unrest. Scientists will also assess if living or working near the site of the incident and civil unrest increased risk for worse birth outcomes among all women.

Quantify the impact of police violence on PTB and LBW risk among Black women.

 

The researchers will examine 13 years of birth records available from every county in the U.S. to assess if incidents of police violence across the country are associated with greater risk for PTB and LBW among Black women. 

Describe how the experience of racialized police violence impacts Black women during pregnancy.

Researchers will survey and interview a cohort of 200 Black women who were pregnant and living in two communities with incidents of high-profile police violence — Twin Cities, MN, and Baton Rouge, LA — to assess psychosocial stress related to police violence. 
Hardeman plans to announce the results of the research as they become available over the next five years. The findings will be shared through journal and news articles, conferences, policy briefings and reports, and community presentations. The results will be needed by healthcare delivery systems, community organizations, and policy makers to inform efforts for ensuring reproductive health equity.
"The findings will offer a more complete picture of the ways that community trauma, structural racism, individual-level physical and mental health consequences, and population-level disparities affect reproductive health outcomes," says Hardeman. "Our understanding will be grounded in the everyday experiences of Black women. This approach is essential to developing effective public health strategies that disrupt the pathways from racialized police violence to population health inequity and advance the goal of preventing pregnancy-related complications and reducing maternal and infant death."