SPH Research Day is an annual event that provides faculty and students an opportunity to showcase their research, integrative learning projects, or applied practice experiences. This year, Research Day is presented online.
View the 2020 faculty and student research posters and presentations below in this unique SPH Research Day virtual format!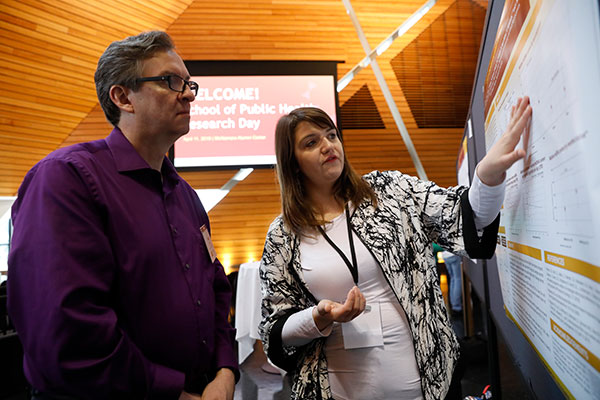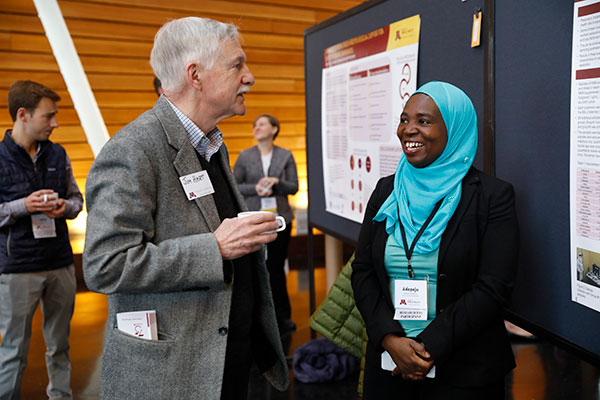 Poster Presentations
Alcheva Aleksandra
Alkaloids and nitrosamines in tobacco filler of half-smoked cigarettes: Implications for cigarette re-lighting
Manami Bhattacharya
Associations between preoperative depression, hysterectomy, and postoperative opioid use
Karmen Dippmann
Program evaluation for group-based health education in a state prison
Asmaa Ferdjallah
Lactation support as described by University of Minnesota students and staff: Results of a qualitative survey
Emily Friedrich
Minnesota Assisted Living Report Card Development: Resident focus group feedback analysis
Janna Gewirtz O'Brien
Health outcomes among runaway and homeless youth: Does place matter?
Kristen Godwin
Analysis of Minnesota criminal justice referral receipt of medication-assisted treatment for opioid use for 2000-2017
Leah Guy
Minnesota Farm Suicide: Developing a more inclusive methodology
Joseline Haizel-Cobbina
Racial and ethnic disparities in survival of children with brain and central nervous system (CNS) tumors in the United States
Cole Hanson
Purchasing and nutrition knowledge assessment of caregivers in 3 Minnesotan group homes
Andrea Jordan
Mercury in Moms: Inorganic mercury screening in pregnancy to reduce harmful exposures
Adam Kaplan
Batch Bayesian optimization design for optimizing a neurostimulator
Zachary Maino
The Outcome of radiation segmentectomy vs. radiofrequency ablation in early stage hepatocellular carcinoma
Amanda Markelz
Isolation and Characterization of Enteroinvasive Escherichia coli (EIEC) from CIDT positive specimens
Eddah Waruiru Mburu
Breast cancer in Ghana: Why do women with breast cancer symptoms not get diagnosed after initially seeking medical care?
Jeanne Moua
Domestic violence programming in a low resource setting, Jan Seva, Kolkata, India
Arundhathi Pattathil Sasikumar
The African immigrant memory loss assessment project
Casey Rieck
A Pediatric Cardiovascular Intensive Care Unit Study: Examining interventions for decreasing air bubbles in central lines in conjunction with assessing nursing adherence using the RE-AIM implementation framework
Sarah Samorodnitsky
A Pan-Cancer and Polygenic Bayesian hierarchical model for the effect of somatic mutations on survival
Joseph Servadio
Estimating case fatality risk for severe Yellow Fever cases: A systematized review and meta-analysis
Olivia Sullivan
Pilot study of a GSM patient sensitivity curriculum for prehospital EMT students
Ally Timm
Lactation Practices in Minnesota and Illinois Jails: Implications for health of justice-involved mothers and their children
Richie Houhong Xu
Formative Assessment of the Needs and Preferences for Health Information among Chinese Men Who Have Sex with Men
Yuan Zhang
Modified Q-learning with generalized estimating equations for optimizing dynamic treatment regimes with repeated-measures outcomes
Lightning Round Presentations
Research Day Lightning-Round Presentations from our students and faculty highlight their work, or the work they do together. Each of these presentations aims to support our theme of Health is a Human Right, which will focus on the commitment of social change and the belief that everyone has the right to live a healthy life.