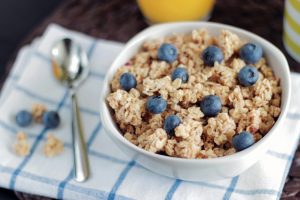 When it comes to teenagers, statistics show that they may not consider breakfast the most important meal of the day. Nationally, approximately 60 percent of high school students skip breakfast each morning and 14 percent of them do not eat the meal most or all days of the week. Skipping breakfast poses a significant threat to adolescent development because it is linked to poor cognitive performance and may also contribute to mental health issues and a higher risk for obesity.
A new study from the School of Public Health shows that a possible low-cost solution for high school students in rural areas is to allow them to purchase food from "grab-and-go carts" that are reimbursed by the USDA's School Breakfast Program.
"Increasing participation in the School Breakfast Program has strong potential to reduce existing disparities in adolescent nutrition and academic outcomes," says lead author and Research Associate Nicole Larson.
The study was published in the Journal of Nutrition Education and Behavior. It's part of the larger Project BreakFAST study led by Associate Professor Marilyn S. Nanney in the University's Department of Family Medicine and Community Health.
To test the efficacy of the intervention, the study provided eight rural high schools with funds to introduce the carts and train workers on the best practices for providing school breakfast. School rules were also relaxed to let kids eat outside of the cafeteria. The researchers then tracked the use of grab-and-go carts among 364 at-risk kids who initially reported eating breakfast less than three times a week.
"The study showed that increasing access to the School Breakfast Program through the grab-and-go carts and altering school rules around eating meals are effective strategies for promoting student participation without high expense," says Larson.
The researchers found that after the carts were introduced students eligible for free or reduced-price lunch increased their participation in the School Breakfast Program from 14 percent to 31 percent. Similarly, but to a lesser extent, at-risk students ineligible for free or reduced-price lunch raised their participation from 4 percent to 17 percent. Furthermore, the study showed that overall school-level participation in the School Breakfast Program increased from 13 percent before the use of grab-and-go carts to nearly 23 percent in the year of implementation.
Larson said the results of this study demonstrate the potential for grab-and-go breakfast  programs to contribute to improved nutrition and support the academic development of teens. She recommends that parents of high school students, school professionals, and public health leaders advocate for the implementation of such programs to increase social support for eating breakfast at school and access to the School Breakfast Program.